A cryptomining holding firm has acquired a data center in Texas.
Arsenal Digital Holdings, Inc. announced this week that it secured an agreement through its investment affiliate to acquire a data center campus in Texas. Terms of the deal were not shared.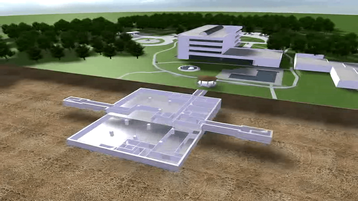 Though it didn't share the location, the company said the site was a 50-acre operational data center campus comprised of a four-story office building, a two-story subterranean data center, and an additional 100,000 square feet (9,300 sqm) data center facility immediately ready to receive approximately 15MW of power capacity.
Arsenal said future phases will include the development of incremental power on 30 contiguous acres of included land utilizing clean energy technologies available to the site.
Ryan Messer, CEO of Arsenal, said: "Data centers are among the most highly coveted assets in the digital infrastructure space, and we are proud to make this acquisition a foundational asset for the Company as it will be a true flagship location. This property would be difficult to replicate and has significant upside potential. Additionally, we have the team and foundational plan to execute the development plan to create significant value for shareholders."
Arsenal also said it had partnered with the founders of energy investment manager Last Mile Energy to form and capitalize Convergence Infrastructure Partners, a new digital infrastructure-focused investment platform.
Arsenal Digital Holdings, formerly Global Green Solutions, is a critical power and digital infrastructure holding company headquartered in Houston, Texas. The company aims to invest in critical power infrastructure for digital asset mining.
Though Arsenal doesn't specify, it may have acquired the Westland Bunker data center in Montgomery. The 50+ acre site, outside Houston in Montgomery County, features a four-story, 100,000 sq ft (9,200 sqm) office building and a total of 140,000 sq ft (13,000 sqm) of underground data center space. The site was on sale last year for around $39 million.
Originally built in 1981 by Westland Oil founder Louis Kung doubling as his corporate headquarters and as a fallout shelter for him as well as his family & employees in the event of any nuclear disaster or war. The site was acquired by Curtis Development LLC in 2001 and then acquired by Montgomery LP; it was converted to a data center in 2004 and subsequently upgraded in 2008.
In other crypto news:
- BitRiver is to build a cryptomining facility in the Russian far eastern area of Sakha. The company has entered into a partnership with the Development Corporation of the Republic of Sakha (Yakutia) and the Yakutsk Electric Grid Company to build a data center in the Mirninsky district.
The company, founded in 2017 and recently sanctioned by the US, operates five data centers – including a 100MW in the Siberian city of Bratsk – and has 15 projects in the implementation phase both in Russia and abroad. The total power consumption of BitRiver's Russian data centers is 300MW. It is also working with Gazprom Neft to deploy flared gas data centers.
- Compute North's latest mining facility, located 'behind-the-meter' at a wind farm in McCamey in Texas, is due to go live this month. The site reportedly spans 29 acres and will be scaled up to 280MW at full build-out. Marathon Digital will be deploying mining hardware at the site.
- Greenidge Technology Holdings has paused plans to develop more cryptomining sites due to the fall in the value of cryptocurrencies. The company operates mining facilities at the Greenidge natural gas plant in New York and a 175-acre, 100MW site in South Carolina.
"The sudden change in mining economics has driven us to refocus our strategy to prudently prioritize liquidity and capital preservation over aggressive growth – while maintaining our relentless focus on operational performance," said Jeff Kirt, chief executive officer of Greenidge during an operational update from July. "As a result, we have chosen to pause our plans to develop certain additional sites in our pipeline in the ERCOT market and, instead, intend to concentrate our operations at our two existing sites in South Carolina and New York for the time being."