A nuclear shelter turned bunker data center is up for sale in Montgomery, Texas.
The Westland Bunker at 550 Club Drive, outside Houston, is listed as for sale on a number of US property sites. The campus consists of a four-story, 100,000 sq ft (9,200 sqm) office building and a total of 140,000 sq ft (13,000 sqm) of underground data center space.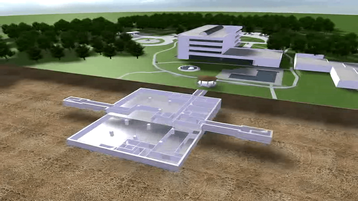 The 240,000 sq ft (22,300 sqm) property sits on 58 acres within Montgomery County. Originally built in 1981 by Westland Oil founder Louis Kung doubling as his corporate headquarters and as a fallout shelter for him as well as his family & employees in the event of any nuclear disaster or war.
The site was acquired by Curtis Development LLC in 2001 and then acquired by Montgomery LP; it was converted to a data center in 2004 and subsequently upgraded in 2008. The Bunker built a second 105,000 sq ft, five hall, 12MW data center in April 2014.
LoopNet lists an asking price of $39 million. The facility is reportedly 77 percent leased. The sales brochure claims the site has completed construction plans for four additional buildings providing 330,000 additional square feet (30,600 sqm) of continuity space as well as two additional underground data centers that will add another 120,000 sq ft (11,150 sqm) of floorspace.
Ling-Chieh (Louis) Kung was the nephew of Madame Chiang Kai-shek, the First Lady of the Republic of China. His wife was Debra Paget, an actress that played the love interest of Elvis Presley in the 1956 western, Love Me Tender. Kung started an oil company in 1961 called Westland Oil Development Corp, which eventually went bust in the late 1980s.