Cryptocurrency data center and mining firm Iris Energy is close to defaulting on some of its debts.
Iris has three wholly-owned special purpose vehicles (SPVs) incorporated for the specific purpose of financing certain miners. The company said this week the miners under those SPVs are generating less cash than their repayment requirements.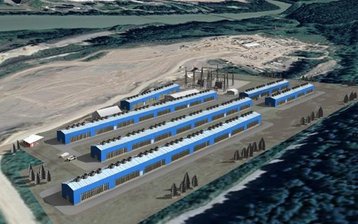 "The Company expects that neither of those Non-Recourse SPVs will be able to make the scheduled principal payment on November 8, 2022, which would result in a default for those Non-Recourse SPVs under their respective limited recourse equipment financing arrangements," it said in an update this week.
Non-Recourse SPV 1 has debts of $1 million, secured against 0.2 EH/s of miners. Non-Recourse SPV 2 has debts of $32 million, secured against 1.6 EH/s of miners, and Non-Recourse SPV 3 has debts of $71 million, secured against 2.0 EH/s of miners.
The company said two of the SPVs are engaged in discussions with their lender and reached an agreement for a two-week deferral of scheduled principal payments originally due under both equipment financing arrangements on October 25 to November 8.
SPV 2 and SPV 3 currently produce insufficient cash flow to service their respective debt financing obligations, between them generating around $2 million of Bitcoin mining monthly gross profit, compared to monthly payment obligations of $7 million.
Iris noted a number of other miners and all of the group's data center capacity & development pipeline are unaffected by these financing arrangements.
Iris Energy's Co-Founder & Co-CEO, Daniel Roberts, said: "The limited recourse equipment financing arrangements have been a recent focus for us. We remain committed to exploring a way in which we may be able to allow the lender to recover its capital investment, however, we are also mindful of the current market and that these arrangements were deliberately structured to minimize any potential impact on the broader group during a protracted market downturn."
Iris currently owns & operates a 30MW Bitcoin mining facility in British Columbia, Canada. It claims to be a sustainable firm as it is using renewable energy for its mining operations; the British Columbia site is powered by hydroelectricity.
The company reportedly has a 1GW growth pipeline across Western Canada (Mackenzie and Prince George, 80MW and 50MW) Central USA (Childress, Texas, 40MW and eventually reaching 600MW), and Asia-Pacific.
In September Iris signed a deal with B. Riley that could see the investment bank acquire up to $100 million in equity in the crypto company.
Times are tough for crypto companies. Last week cryptomining firm Core Scientific said the company is facing potential bankruptcy; the firm warned it would not pay its debts for October and November, and could run out of cash by the end of the year. Compute North, another cryptomining data center firm, filed for bankruptcy in September. The company said it owed as much as $500 million to at least 200 creditors.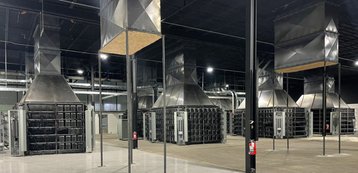 BitNile to move into enterprise colocation
In other crypto news this week, BitNile said it intends to start offering enterprise colocation services from its cryptomine facility in Dowagiac, Michigan.
BitNile subsidiary Alliance Cloud Services owns and operates a 617,000 square foot (57,300 sqm) facility it acquired in January 2021. The 28MW site consists of a 100,000 sq ft (9,300 sqm) data center and 517,000 sq ft (48,000 sqm) of space occupied by commercial real estate tenants.
The company plans to launch enterprise data center services at the facility, and said the enterprise data center component is nearing completion and will soon be ready to serve prospective customers interested in hosting and colocation services.
Milton "Todd" Ault, III, the Company's Executive Chairman, stated, "We believe the capabilities of our Michigan data center are in high demand and we are focused on adding enterprise data center customers in the near future, further expanding revenue provided by this facility."