Investment bank B. Riley could acquire up to $100 million in equity of cryptomine firm Iris Energy.
Founded in 2019, Iris builds, owns, and operates data centers and electrical infrastructure to mine Bitcoin.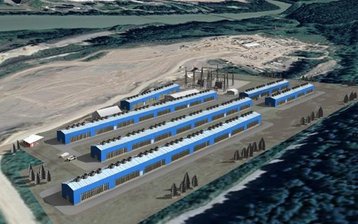 In a filing with the SEC this week and reported by CoinDesk, Iris has the right, but not the obligation, to sell B. Riley up to 25 million ordinary shares over the next 24 months starting Friday. If the miner sells all the shares to the bank, for about $100 million, B. Riley would have an up to 31 percent stake in the miner, the filing said.
The money would be used to fund the company's growth, including hardware purchases, acquisition, and development of data center facilities, as well as for working capital and general corporate purposes.
Iris currently owns & operates a 30MW Bitcoin mining facility in British Columbia, Canada. It claims to be a sustainable firm as it is using renewable energy for its mining operations; the British Columbia site is powered by hydroelectricity.
The company reportedly has a 1GW growth pipeline across Western Canada (Mackenzie and Prince George, 80MW and 50MW) Central USA (Childress, Texas, 40MW and eventually reaching 600MW), and Asia-Pacific.
B. Riley has a similar agreement with Core Scientific, another cryptomining firm, in July. The firm has the option to sell up to $100 million in equity to the bank over a 24-month period. Core Scientific operates data centers in Georgia, Kentucky, North Carolina, North Dakota, and Texas, and expects to commence operations in Oklahoma in the second half of 2022.
Last week cryptomine hosting firm Compute North filed for bankruptcy.