Cryptomining data center firm Compute North has filed for bankruptcy
Minnesota-based Compute North Holdings Inc., which provides data center hosting services for cryptocurrency miners and blockchain companies, filed for Chapter 11 bankruptcy in Texas this week.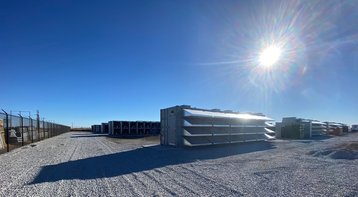 The company said it owed as much as $500 million to at least 200 creditors. The firm's CEO Dave Perrill has also stepped down but will remain on the board.
Data center operators worldwide are seeing energy prices rise, while cryptomining firms are facing a double-whammy of low Bitcoin prices and Ether's recent move away from 'proof of work' mining, reducing the need for mining hardware.
Bloomberg reports Compute North faced delays in energizing mining machines for its client Marathon Digital Holdings Inc. in Texas due to local regulations in the state.
Compute North's 280MW mining facility in Texas was planned to be operational in April, but was held up by the approvals process. By the time it could launch, Bitcoin prices had plummeted, and funding opportunities had dried up.
In February Compute North raised $385 million, consisting of an $85 million Series C equity round and $300 million in debt financing.
Founded in 2017, Compute North operates four US data centers; two in Texas in McCamey (280MW) and Big Spring, and one each in Kearney, Nebraska (100MW), and North Sioux City, South Dakota (6MW). A third 300MW facility was in development in Granbury, Texas. The company's assets are worth between $100 million and $500 million, according to its Chapter 11 petition.
"The Company has initiated voluntary Chapter 11 proceedings to provide the company with the opportunity to stabilize its business and implement a comprehensive restructuring process that will enable us to continue servicing our customers and partners and make the necessary investments to achieve our strategic objectives," a spokesperson told CoinDesk in an emailed statement.
Both Compass Mining and Marathon Digital are customers of Compute North, and released statements saying the filing shouldn't affect operations.
"Based on the information available at this time, it is our understanding that this filing will not impact our current mining operations," the company tweeted. "We are in communication with the hosting provider and monitoring their progress as they work through this process."
"Compute North's staff informed us today that the bankruptcy filing should not disrupt business operations. We are continuing to monitor the situation and will provide further updates as they become available," said Compass Mining.
Crypto miner Hive Blockchain signed a deal with Compute North earlier this year for 100MW worth of mining capacity.
Update: Further reports suggest Compute North's issues stemmed from the fact one of its lenders has withdrawn funding.
Generate Capital agreed to lend up to $300 million to Compute North to finance projects in Nebraska and later Texas. As part of the financing agreements, the lender received a right of first refusal to finance all of Compute North's future projects. Around $100 million of that financing is currently outstanding.
In July, the lender asserted several "technical events of default," which led to taking control of a number of Compute North's assets, including the Wolf Hollow site in Texas. It also stopped funding for new sites other than the ones in Texas and Nebraska.
An alternative source of funding couldn't be found.
The company owes $99.8 million in the form of a senior secured promissory note to NextEra Energy (TZ Capital), $21 million in the form of an unsecured senior promissory note to cryptocurrency miner Marathon Digital, and $7.47 million to repay equipment financing for cryptocurrency mining equipment to Foundry Digital.