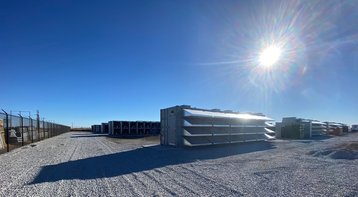 The Nebraska facility went live in late 2019 is was the company's third after sites in Texas and South Dakota. The expansion will include a new building for additional office space, equipment storage, and on-site equipment maintenance and repair.
"As a testament to Compute North's significant growth, its expansion in Kearney represents the company's next step in 'Mining 2.0,' that requires the ability to effectively manage mining and data center operations, combined with market expertise to actively manage power costs," said Dave Perrill, co-founder and CEO of Compute North. "In addition, the Kearney community's quality labor environment is certain to engender customer confidence, and we're excited for the growth that our site expansion will bring to the local economy."
Compute North's customers include Foundry Digital LLC, Bit Digital, Inc., and other firms in the bitcoin mining space who use the facility to mine cryptocurrencies such as Bitcoin. The company announced $25 million in debt financing and equity in February to expand growth.
"The expansion of Compute North provides the opportunity to grow their existing operations by almost three times in Kearney's Tech oNE Crossing technology park. Data center projects like Compute North are a result of quality partnerships," said Darren Robinson, President of the Economic Development Council of Buffalo County.
"Nebraska Public Power District (NPPD) is pleased to see Compute North grow in Kearney, where they can take advantage of our low costs and reliable service. We too look forward to working with Compute North in meeting their needs for renewable energy, while also looking at how we can both benefit from their flexible demand for power," added Tom Kent, President and CEO of NPPD.