The Ukrainian government is planning to build huge data centers next to its nuclear power plants to host state documents and mine cryptocurrency.
Official statements call for facilities between 250MW and 500MW, with the state-owned utility Energoatom saying that total energy consumption across the mining facilities could reach 2-3GW.
Details on the cryptocurrency projects are limited.
Nuclear-powered bitcoin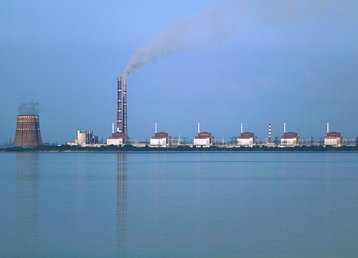 In May 2020, acting head of the Ministry of Energy Olga Buslavets signed an order to study the "possible implementation of cryptocurrency mining projects in order to provide additional sales markets for electricity produced by the nuclear power plant."
The agency said that it hoped that the data centers would help use idle load and reduce the burden on transmission systems - but that they would require a minimum of 100MW in power.
That summer, Energoatom's acting president, Petro Kotin, signed an MoU with H2 LLC to build a $700m data center near the Zaporizhzhia Nuclear Power Plant, Europe's largest nuclear power plant, located just 200km from the ongoing war in Donbass.
Little is known about local company H2, which will also build a $300m hydrogen electrolysis plant.
In August, Ukraine's president Volodymyr Zelenskyy met with H2 and investor Yom Capital to discuss the project, at that point said to have a capacity of 1GW.
Cyprus-based Yom is headed by Walter Komarek, who was previously the CEO of Forbesphone, a now-defunct mobile virtual network operator set up as a partnership between Forbes Media and Maltese mobile company Worldfone.
Public information on Yom is scarce. The company claims to be partnering with diagnostic laboratories and pharmacy industry chains in Ukraine, Cyprus, Greece, and the Emirates for Covid-19 tests.
Yom says it has a 10-year contract with Energoatom and H2 for the data center, with its website also revealing a partnership with Polish bitcoin mining company Minebest.
Ukraine's Energoatom followed up the Zaporizhzhia deal with another partnership in October. The state enterprise announced an MoU with Dutch mining company Bitfury to operate multiple data centers near its four nuclear power plants, with a total mining consumption of 2GW.
"Thanks to the experts of Energoatom and Bitfury Holding engaged in the preparation of the Memorandum and for completing the first stage of cooperation. This is the beginning of a large and complex work, which will allow solving some strategic tasks both for Energoatom and for Ukraine as a state," said the agency's temporary head, Kotin.
As part of this deal, Energoatom, Bitfury Group, and Rivne Regional State Administration aim to build a huge data center next to the Rivne Nuclear Power Plant. The government's foreign investment agency claims that the facility's capacity is initially "envisaged at 250MW with further stepping up to 500MW."
This year, that data center took its first step towards reality. Kiev Energy Construction Company won a contract to begin work on the facility, but at 8.92 million Hryvnia ($317,620) does not appear to cover the whole 250MW set up. Further tenders and contracts are planned.
The data center will also be used to "host state registers, electronic archives, and computing facilities," tender documents state.
Construction is expected to be completed by August 31, 2022.
Ukraine does not require a license to mine bitcoin, and is currently in talks to pass legislation to tax crypto gains at five percent.
The history of nuclear data centers
The push for state-sanctioned mining comes after Ukraine's internal security service, the SBU, discovered an illegal bitcoin mining operation going on inside one of Energoatom's power plants.
The year before, Russian nuclear engineers were arrested for using a supercomputer at a nuclear laboratory to mine bitcoin.
Russia is also turning to its ample nuclear power plant infrastructure for on-site data centers.
In 2019, Rostelecom Data Centres opened a facility on the grounds of the Kalininskaya Nuclear Power Plant, with 48MW of power capacity and space for 4,800 racks by the end of 2021. Should it reach that goal, despite multiple delays, that will make it Russia's largest data center. That facility, however, appears more geared towards standard colocation and cloud workloads than cryptocurrency mining.