Cryptocurrency firm Compute North has raised $385 million to fund the further development of crypto mining data centers.
The company last week announced it had closed $385 million in financing, comprised of $85 million in the initial Series C equity co-led by Mercuria and Generate Capital with additional investors including National Grid Partners, and $300 million in debt financing.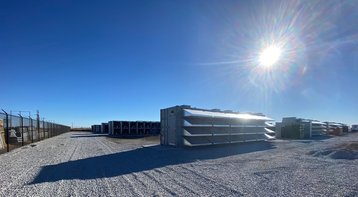 The company said the money will be used to support the development of new US-based data centers and expanding capacity. Galaxy Digital advised the company on the equity financing.
"We are thrilled to partner with Compute North as they execute their market-leading strategy of providing high-quality, low-cost hosting services while simultaneously focusing on decarbonizing the electric supply," said Timothy Hood, head of Mercuria's renewable energy trading. "Combining intermittent resources with the flexibility of 'Tier 0 hosting' allows Compute North to deliver highly competitive solutions for its increasingly diverse customer base."
"Data centers are a growing part of energy demand and we're excited to invest with Compute North to build digital infrastructure that can operate sustainably and efficiently while complementing a more resilient grid," added Andrew Marino, senior managing director and head of corporate private equity at Generate. "The Compute North team is at the leading edge of sustainable innovation in flexible data centers and we're excited to be partnering with them on projects that use less energy, create economic benefits and work in tandem with renewables."
Compute North has facilities in Nebraska, North Carolina, and Texas.
The news follows a number of large-scale blockchain/crypto mining data center announcements recently.
The Muskogee City-County Port Authority in Oklahoma has announced two crypto mining developments in a month: YZY Capital is planning two 50MW facilities in Muskogee County, while Core Scientific is also developing a 500MW facility in Muskogee.
Greenidge Generation Holdings Inc. is planning a 100MW crypto mining facility in Spartanburg County, South Carolina. The company aims to invest $264 million on the 175-acre site; the first phase of the project is expected to be online in the second half of 2022, with additional expansion through to 2025.
In North Dakota, Atlas Power Data Center is planning a $1.9 billion data facility in Williston that could reportedly reach 700MW. Phase one is underway and due to be completed by the end of 2022, and the site could reach 700MW within two years.
Sydney-based Mawson Infrastructure Group is leasing 6 acres of property on the west side of Allegheny Technologies Inc.'s idled steel plant in Midland, Pittsburgh, to build a mobile data center for Bitcoin mining.
Last week, Merkle Standard announced a joint venture deal with mining rig manufacturer Bitmain to develop data centers with up to 500MW of capacity; the company is behind a proposed 220MW crypto mine in the former Ponderay Newsprint factory in Usk, Washington.
More in Construction & Site Selection