Constellation Energy has completed its separation from Exelon Corp. and is potentially targeting colocating data centers at its power plants.
Headquartered in Baltimore, Constellation will be a Nasdaq-listed Fortune 200 company and operates in 48 states, Canada and the UK, employing approximately 13,000 people. The company has a fleet of nuclear, hydro, wind, and solar generation facilities totaling 32,400MW of power.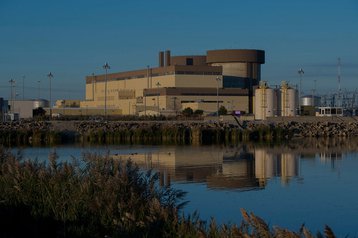 "The future health and prosperity of our nation is inextricably linked to our success in eliminating carbon pollution, and our entire focus will be on helping our customers and communities achieve that goal," said Joseph Dominguez, CEO of Constellation. "Our clean generation fleet and leading customer-facing platform are the foundation on which we will sustain and grow our business. Today begins an exciting transition for our company and employees as we affirm our mission to accelerate the transition to a carbon-free future and advance economic progress and equity in the communities we serve."
As part of its new independence, the company is looking to explore 'colocation' of data centers at its power plants.
"Constellation is exploring growth opportunities that build on its core businesses, including acquiring nuclear plants or other clean energy assets, creating clean hydrogen using its nuclear fleet, growing sustainability products and services for business customers, and leveraging the generation fleet for colocation of data centers and other opportunities," the company said this week.
In a presentation on the separation, Constellation noted it has a five-year 'behind the meter' power supply deal with Compute North to power its data center at one of the energy company's Texas plants; it said the deal provides curtailable load ERCOT without requiring new gas-fired peakers to be built.
A number of companies are looking at colocating data centers – usually cryptocurrency mining operations – at power plants.
Talen Energy last year announced plans for a 300MW+ nuclear-powered data center and cryptomining facility adjacent to its Susquehanna Steam Electric Station (SSES) in Luzerne County, Pennsylvania. The first two of six planned Cumulus data centers, one for hyperscale cloud and another for 'coin applications', are expected to be completed by the second half of 2022.
The Susquehanna site could be the first of several large-scale campuses at Talen plants. LevFin Insights reports that long-term, Talen could develop up to 960MW of bitcoin mining capacity; as well as Susquehanna, the company could build an additional 300MW at the natural gas Mount Bethel plant in Pennsylvania and another 300MW on the natural gas Barney Davis site in Texas. In its March 2021 ESG report, Talen said the company was "well-positioned to capture value" in areas such as data centers and digital coins, saying the two business areas could be a "stable source of income outside of the traditional market."
In many cases, the crypto operations are resulting in the re-firing or prolonging of fossil fuel plants.
Validus Power Corp. is building a cryptocurrency mining facility and re-activating a mothballed gas power plant in Canada. Power company Ameren Corp. has deployed a crypt-mining operation at the Sioux Energy Center in Missouri. Marathon is developing a 37MW crypto rig at Beowulf's 119MW Hardin Generating Station in Montana - providing a lifeline for a coal plant that looked to close.
In July 2021, Stronghold raised $105 million to set up Bitcoin mining at Scrubgrass, a 90MW power plant in Venango County, Pennsylvania, which burns super-dirty coal waste. Last year also saw a gas power station expansion approved - with the plant brought back from the dead simply to mine Bitcoin.
US energy company Energy Harbor Corp. announced a deal to provide a former paper mill turned cryptocurrency mining facility with nuclear energy to power its operations.
A 2-3GW crypto-mining farm is also being planned on the site of the Rivne Nuclear Power Plant in Ukraine. Construction is expected to be completed by August 2022.
TeraWulf, which may be a tenant of the Talen Energy project, currently operates Lake Mariner Mining; a hydroelectric-powered mining facility on the site of a retired coal plant on the shores of Lake Ontario, New York.
A number of companies are installing modules along pipelines to run on flared gas.