US power company Talen Energy is planning to develop a nuclear-powered cryptomining facility and data center adjacent to a nuclear power plant in Pennsylvania, that could grow to 300MW.
Talen Energy formed Cumulus Data in 2020 to 'invest in opportunities created by the convergence of digital infrastructure and power'. A spokesperson for Talen said Cumulus is a subsidiary of Talen Energy and has two separate businesses; Cumulus Data, focused on hyperscale; and Cumulus Coin, focused on digital currency mining.
The company is looking to develop the Susquehanna Hyperscale Campus (SHC) in Berwick, on undeveloped land next to Talen Energy's Nuclear-powered Susquehanna Steam Electric Station (SSES) in Salem Township, Luzerne County.
Talen says the first phase of development will have 164MW of capacity, but when complete will have 300MW of on-site power supported by dual 1+GW nuclear units and two independent substations, with further potential to expand to 1GW capacity in the future if needed. The project is due to come online in Q2 2022.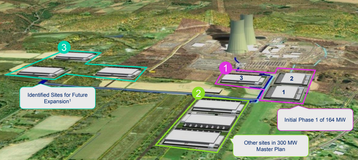 "As the demand for energy increases among data center and cryptocurrency processing clients, so does the call for decarbonizing these energy sources. Talen Energy is constructing a hyperscale data center campus adjacent to its Susquehanna nuclear generation facility," a company presentation said. "It will provide low-cost, reliable, carbon-free power to the data center clients on campus. This allows clients to benefit from carbon-free, 24/7 power being supplied directly to the campus, without the intermittency that renewable energy can experience, or requiring fossil fuels.
Talen tells DCD the company has already obtained the necessary permits at the township and state level to prepare the site for its first building and work has begun. Further permits are being applied for to begin construction of the first building. Talen says it has an anchor customer on the campus for the coin side of the business and is in discussions for data center customers.
Commissioned in 1983 for PPL, the 2,494MW Susquehanna Steam Electric Station is one of the largest nuclear power plants in the US. Its current owner, Talen Energy, was founded in 2015 after the competitive power generation business of PPL Corporation was spun off and combined with competitive generation businesses owned by private equity firm Riverstone Holdings.
Based in Allentown, Pennsylvania, Talen operates more than 15,320MW of power generation across mostly coal and gas plants in Maryland, Massachusetts, New Jersey, Texas, Pennsylvania, Virginia, and Montana.
In April, Talen also announced plans to develop 1.4 Gigawatts of solar and wind energy projects over the next five years and eliminate the use of coal at its plants. Talen's Montour generation facility in Pennsylvania and its Brandon Shores and H.A. Wagner coal generation facilities will cease coal-fired operations by the end of 2025, while its Brunner Island generation facility in Pennsylvania will cease using coal in 2028. The three sites total 5GW and around a third of the company's energy generation footprint.
The company recently announced it was partnering with Key Capture Energy for a battery storage project at its H.A. Wagner coal plant in Baltimore, Maryland as part of plans to develop 1GW of battery storage projects across its plants. Talen told DCD it believes there is potential for more data center campuses at other plans, but it focused on Susquehanna for now.
Elsewhere in Pennsylvania, Stronghold Digital Mining, which owns the 80MW Scrubgrass Power Plant in Venango County, recently raised $105 million to help it mine cryptocurrencies at the plant. In New York, the Albany Engineering Corp. this month said it could make more money mining crypto at its hydroeletric plant in Mechanicville than generating energy for the grid.