Talen Energy is partnering with cryptomining firm TeraWulf for its Nuclear-powered Susquehanna Hyperscale Campus in Pennsylvania.
As first reported by DCD, Talen's newly-formed Cumulus unit, is looking to develop a nuclear-powered cryptomining facility and data center at Talen's Susquehanna Steam Electric Station (SSES) in Salem Township, Luzerne County.
Talen Energy formed Cumulus Data in 2020 to 'invest in opportunities created by the convergence of digital infrastructure and power'. A spokesperson for Talen said Cumulus is a subsidiary of Talen Energy and has two separate businesses; Cumulus Data, focused on hyperscale; and Cumulus Coin, focused on digital currency mining.
Due to come online in Q2 2022, the first phase of development will have 164MW of capacity. When complete the project will have 300MW of on-site power, with further potential to expand to 1GW capacity in the future if needed.
A Talen spokesperson had previously told DCD that an anchor customer on the campus for the coin side of the business had been obtained while it is still in discussions for data center customers.
That anchor customer may be cryptomining firm TeraWulf, or a joint venture the two companies have created.
In recent financial filings TeraWulf, a US-based cryptocurrency mining firm, listed Talen Energy as an owner in a joint venture known as Nautilus Cryptomine LLC.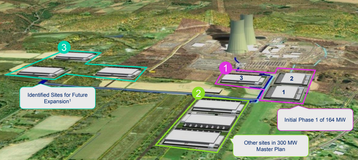 Nautilus Cryptomine LLC was registered in Delaware in March 2021. On its site, TeraWulf describes Nautilus as "a partnership between TeraWulf's nuclear mining facility subsidiary and Talen Energy Corporation." The company said the JV is 'located at a nuclear energy generating facility in the PJM interconnection' (an electric transmission system serving a number of states around the mid-Atlantic US including Pennsylvania).
In its most recent ESG report from March, Talen said the company was "well-positioned to capture value" in areas such as data centers and digital coins, saying the two business areas could be a "stable source of income outside of the traditional market." In the report, Talen said the data center portion of the development would be 48MW and will come online in 2022.
The Susquehanna site could be the first of several large-scale campuses at Talen plants. LevFin Insights reports that long-term, Talen could develop up to 960MW of bitcoin mining capacity; as well as Susquehanna, the company could build an an additional 300MW at the natural gas Mount Bethel plant in Pennsylvania and another 300MW on the natural gas Barney Davis site in Texas.
Talen had previously told DCD that while it believed there is an opportunity to 'develop similar projects' in the future, it said its 'focus was on the Susquehanna Hyperscale Campus at this time'.
LevFin also reports that the company is looking to raise $600-800 million of equity to fund its decarbonization & battery storage, data center & crypto, and solar & wind projects. DH Capital is reportedly running an equity capital raise for the company.
TeraWulf currently operates Lake Mariner Mining; a hydroelectric-powered mining facility on the site of a retired coal plant on the shores of Lake Ontario, New York. The company has secured 90MW of power but says it could reach up to 500MW on-site.
The crypto company recently announced plans to merge with imaging company Ikonics. The latter company has no link to crypto, instead making the likes of emulsions, films, and sandcarving & pattern development machines. The two companies will combine under a new holding company, which will change its name to TeraWulf Inc. and is expected to be listed on The Nasdaq exchange. After the merger the Ikonic part of the business will be "positioned for sale" and its executive team will step down.
Terawulf said the deal would 'pave the way for a US publicly-traded, ESG-focused cryptocurrency mining company.'
DCD has reached out to both Talen and TeraWulf for comment and more details.