Bitcoin mining company Marathon Patent Group has announced plans to build a specialized Bitcoin data center in Montana. The facility will use cheap coal-fired electricity, backed by utility Beowulf Energy, which will take a stake in Marathon.
In the joint venture, Beowulf gets part-ownership of Marathon, but Marathon keeps the Bitcoin output from a data center that will use an estimated 37MW of power from Beowulf's 119MW Hardin Generating Station in Big Horn County, Montana. Marathon will pay $0.028/kWh for the energy, which is about a quarter of the average US domestic rate of around $0.11/kWh.
The location is just 14 miles north-west of the historical location for the battle of Little Big Horn otherwise known as Custer's Last Stand.
Coal's last stand?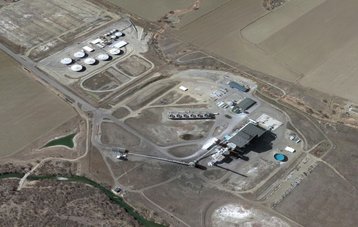 In the US coal is mostly used to generate electricity, and this has been declining very steeply since 2007, because energy demand has steadied, and renewables and gas have become cheaper. As a result many coal generating plants in the US face closure. The Harding plant has been struggling according to Billings Gazette. According to Global Energy Monitor, EIA data indicates that Hardin has not actually bought any coal since December 2017.
In 2017, Heorot Power, the Beowulf division which owned it, announced that it would have to close by 2018. This move was staved off by plans to sell the power for Bitcoin mining and other data center use, and a sale of the power station was approved to Big Horn Datapower Holdings. a crypto mining organization. This sale apparently did not go through, and the plant is owned by Beowulf, via a string of subsidiaries down to Rocky Mountain Power.
Large data center operators are phasing out fossil fuels, and focused on using renewable power but operators in the Bitcoin sector are not so picky. Miners need to use the cheapest power available in an attempt to make a profit from running the increasingly demanding calculations required to generate Bitcoin.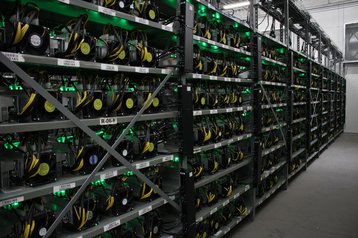 The new Marathon facility, built on 20 acres next to the Hardin plant, will be Marathon's second. It already operates a 2MW, 26,700 sq ft data center in Granby, in Quebec, Canada. According to Marathon's site, Granby runs 1,400 Antminer S9 miners, which consume 1.3kW each. The whole facility provides 19 Petahash per second (19Ph/s), which at current rates is less than one bitcoin per day.
According to Marathon's figures, the new facility will consume nearly 20 times as much power. It will use Antminer S19s, which consume 3.24kW, making a total of around 37MW. Marathon says this will generate 1.265 Exahashes per second (EH/s) when fully deployed next year. Marathon chairman and CEO, Merrick Okamoto confirmed that 500 of the S19 Pro Antminers have been delivered.
Marathon chairman and CEO, Merrick Okamoto, said: "The closing of this joint venture with Beowulf represents the completion of a long journey to own a Bitcoin mining facility. Partnering with an experienced independent power producer enables us to maintain control and certainty of Marathon's energy and operational costs, at rates that represent some of the lowest in North America."
Beowulf has been attempting to break into the data center industry for some time, back in June 2019 it decided to reconfigure its coal power plant in Somerset, New York, into a 250MW hyperscale data center. The company has said that of its 2.3GW of capacity, it has earmarked 500MW more for Bitcoin and other data center use.
Other utilities such as Greenidge Power in New York state have invested in blockchain facilities. In March Greenidge opened a 20MW mining facility at its generating station, which has transitioned from coal to gas with the option of biomass.