Validus Power Corp. is building a cryptocurrency mining facility and re-activating a mothballed gas power plant in Canada.
The company plans to develop a 32,000 square foot (3,000 sqm) 'High Performance Compute' hosting facility at the Kapuskasing combined cycle power plant in Kapuskasing, Northern Ontario. Validus said it expects to be operational by Spring 2022.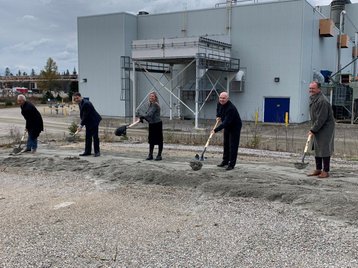 "This is really exciting for everyone involved and Kapuskasing is an ideal location for us. Reinvesting in Canada and specifically Ontario's north is a natural fit," said Todd Shortt, President and CEO of Validus Power. "A data center designed for high performance compute with steady reliable power fits well in a cool climate if you want to promote maximum operational efficiency."
Atlantic Power Corp. mothballed the gas-fired plants in Kapuskasing and North Bay in 2017; Validus acquired both sites earlier this year. As a part of an overall $100 million investment in Northern Ontario, Validus said it will re-open the 45MW plant Kapuskasing and is already building in North Bay.
"Northern Ontario is the future of Ontario. We are extremely excited to announce the first phase of this project with Validus," said Kapuskasing Mayor David Plourde. "Bringing new and diverse jobs to the area is great for the economy and community overall. Also, incorporating our continuing reforestation program with Validus' ESG initiatives is very synergistic."
Validus broke ground on a new cryptomining data center at the North Bay Power Plant site in October. The company will develop a facility in partnership with Hut 8 Mining Corp. Hut 8 has a power purchase agreement with Validus of up to 100MW of power, with an initial 35MW due to come online in Q4, 2021.
Like Crusoe Energy and Earth Wind & Power, Validus is also developing an Edge data center concept alongside Hut 8 that uses excess gas on pipelines to power compute facilities (mostly to mine crypto).