Norwegian firm Earth Wind & Power is partnering with a UK based oil production company to trial modular data centers on oil platforms in the North Sea.
Recently-founded EWP provides modular data center units at fossil, wind, and solar plants to use excess energy to power HPC or blockchain infrastructure.
The company has signed a Letter of Intent with Rapid Oil Production Ltd. to conduct feasibility study of power-to-data-center projects off-shore in the North Sea.
The two companies intend to carry out a three-month joint feasibility-study for the potential deployment of modular data center infrastructure at RPO's Fyne field project in the North Sea.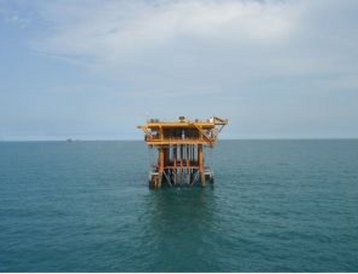 "I am delighted to announce the collaboration with Rapid Oil Production today, marking another important step in the development of EWP's unique and powerful ESG solution," said says Ingvil Smines Tybring-Gjedde, CEO and co-founder of Earth Wind & Power and former Norwegian Minister of National Public Security and Deputy Minister of Petroleum and Energy. "Off-shore North Sea is a key market for us given the scale of the opportunity. We look forward to working with RPO and other innovative companies which share our goal of further reducing emissions as we transition to a net-zero world,"
Geir Aune, Chairman of Rapid Oil Production Ltd. added: "We are happy to announce this cooperation today with a company that shares our goals of reducing emissions and contributing to more environmentally sustainable operations. While hydrocarbons will continue to play an important role in the energy mix for decades to come, producers have an obligation to responsibly manage and reduce the environmental impact of their activities."
According to e24.no, EWP was founded earlier this year and is funded by PetroNor executives Knut Søvold and Gerhard Ludvigsen, but is also listed as part of investment company Valinor Energy Group's portfolio. Executives from Equinor and AGR are on the board, as are others from renewable companies SustainSolar and Norsk Vind.
The company recently announced a partnership with Germany's Cloud&Heat to develop HPC infrastructure sited at energy sites and pipelines.
As well as drawing power from colocated solar panels or wind turbines, EWP says it is able to capture energy from flare gas on pipelines and use it for compute.
In April, Energy and modular data center startup Crusoe Energy has closed a $128 million Series B funding round to develop its modular data centers that are powered by natural gas on pipelines that would normally be flared off.