Energy and modular data center startup Crusoe Energy has closed a $128 million Series B funding round.
Excess natural gas on pipelines is normally burned-off in a process known as flaring. Crusoe hopes to reduce the amount of flaring along pipelines and use the excess energy to power modular data centers instead.
The data centers can then be used for workloads such as cryptocurrency mining, rendering, machine learning, and other use cases through Island Cloud; an Nvidia-powered GPU-centric hardware platform for offering computing resources.
Founded in 2018, the company currently has 40 flare-powered data centers with oil producers across four states in North Dakota, Montana, Wyoming, and Colorado. Existing energy clients include Devon Energy, Kraken Oil & Gas, Enerplus, while Norway's state energy company Equinor was previously a customer. Massachusetts Institute of Technology's Computer Science and Artificial Intelligence Lab (MIT-CSAIL), [email protected], and OpenCV are computing customers.
Register now for our upcoming virtual conference on data center energy integration: DCD>Grid Scale
Data center flare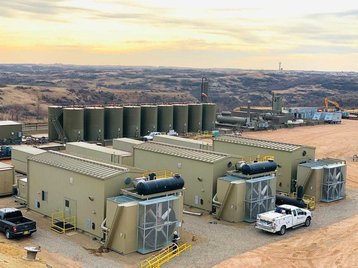 The funding round was lead by Valor Equity Partners with participation from Lowercarbon Capital, DRW Venture Capital, Founders Fund, Bain Capital Ventures, Coinbase Ventures, Polychain Capital, KCK Group, Upper90, Winklevoss Capital, Exor, Zigg Capital, and JB Straubel; the co-founder and former CTO of Tesla and founder and CEO of Redwood Materials.
"We welcome Valor as our new lead investor along with climate-focused investors like Lowercarbon Capital that align with Crusoe's mission to eliminate routine flaring in the oilfield," said Chase Lochmiller, the CEO and co-founder of Crusoe. "Valor brings tremendous expertise in scaling technically and operationally complex businesses as illustrated by their success partnering with the management teams at Tesla, SpaceX, and others."
Crusoe also secured a non-dilutive $40m project financing facility from Upper90 in addition to the new equity capital.
The company says the money will be used to expand Crusoe's operations and plans to grow to more than 100 units over the next year as it expands within new and existing 'flaring-intensive markets' as well as locations with 'oversupplied wind or solar power.'
"Crusoe provides the type of cross-cutting solution that solves multiple technological, energy, and climate challenges simultaneously," said Antonio Gracias, Valor founder, CEO, and CIO. "The financing announced today will help to scale Crusoe by orders of magnitude, meaning we can unlock vast and economic computing resources for technology users while eliminating significant climate-harming emissions."
By providing an additional revenue stream for fossil fuel companies, Crusoe said it can help make extraction more profitable, potentially slowing the shift to renewable energy sources.