Cryptomining firm Core Scientific is facing potential bankruptcy.
In a filing with the SEC this week, the company said it would not pay its debts for October and November, and could run out of cash by the end of the year.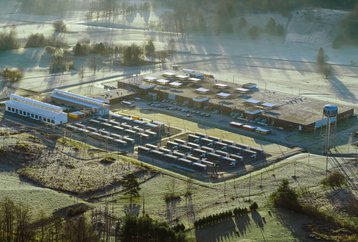 "The Board has decided that the company will not make payments coming due in late October and early November 2022 with respect to several of its equipment and other financings, including its two bridge promissory notes," the company said in the filing.
As a result, Core Scientific notes its creditors make take action against the company, including electing to accelerate the principal amount of any debt, suing for non-payment, or taking action with respect to collateral.
"Any such creditor actions may result in events of default under the company's other indebtedness agreements, including its two series of convertible notes due 2025, and the potential exercise of remedies by creditors under such agreements."
The filing says the company is in the process of "exploring a number of potential strategic alternatives" to improve liquidity, including hiring strategic advisers, raising additional capital, and/or restructuring its existing capital structure.
Potential options include exchanging existing debt for equity or additional debt, alternative sources of equity or debt financing, delaying capital expenditures or evaluating potential asset sales, and even potentially seeking relief via bankruptcy.
"In the event of a bankruptcy proceeding or insolvency, or restructuring of our capital structure, holders of the company's common stock could suffer a total loss of their investment," the company said. "Given the uncertainty regarding the company's financial condition, substantial doubt exists about the company's ability to continue as a going concern for a reasonable period of time."
The company said its operating performance and liquidity have been "severely impacted" by the prolonged decrease in the price of Bitcoin, the increase in electricity costs, the increase in the global bitcoin network hash rate, and ongoing litigation with Celsius Networks LLC and its affiliates.
As of October 26, 2022, the Company held 24 bitcoins and approximately $26.6 million in cash; it anticipates that existing cash resources will be depleted by the end of 2022, if not before.
Core Scientific operates data centers in Georgia, Kentucky, North Carolina, North Dakota, and Texas, and expects to commence operations in Oklahoma in the second half of 2022.
In July 2022 Investment bank B. Riley signed an agreement to buy up to $100 million in equity in Core Scientific. According to the SEC filing, B. Riley had acquired 13,354,892 shares of common stock for net proceeds of approximately $20.7 million.
Compute North, another cryptomining data center firm, filed for bankruptcy in September. The company said it owed as much as $500 million to at least 200 creditors.