BitNile has acquired the remaining stake of the company that owns its data center in Michigan.
BitNile Holdings, Inc. this week announced that its wholly-owned subsidiary BitNile, Inc. now owns 100 percent of Alliance Cloud Services, LLC (ACS).
The company closed a membership interest purchase agreement with the previous 30 percent owners of ACS. Terms of the deal were not disclosed.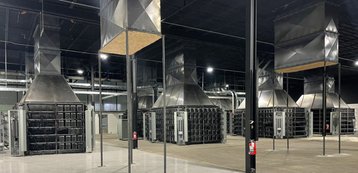 Milton "Todd" Ault, III, BitNile's Executive Chairman, said: "Full ownership of the facility improves flexibility and the ability to execute on our future strategic plans for Bitcoin mining. The completion of this purchase reaffirms our commitment to becoming one of the largest publicly traded Bitcoin miners in the country."
BitNile's subsidiary, Ault Alliance, Inc., formed a new subsidiary, Alliance Cloud Services, LLC, in 2020 to deliver services to the hyperscale and cloud data center markets.
ACS owns and operates the 29MW 617,000 square foot facility – acquired in December 2020 for $3.9 million – located on a 34.5-acre site in southern Michigan that hosts BitNile's Bitcoin mining operations, but also offers colocation.
The data center, located at 415 East Prairie Ronde Street, Dowagiac, was built in 1972 as a manufacturing space; It was recently renovated to provide for a 30,000 square foot data center with space to expand to more than 200,000 sq ft.
BitNile says it has invested a total of $127 million on its Bitcoin mining operations, including approximately $115 million in the purchase of Bitcoin miners and $12.3 million for the purchase of the data center and infrastructure improvements. In March BitNile announced plans to expand the power capacity at its Michigan data center to 300MW.
BitNile Holdings, previously known as Ault Global Holdings, DPW Holdings, Inc. before that, and Digital Power Corporation before that, used to design and manufacture power system solutions.
The company began developing cryptocurrency mining hardware around 2017, and subsequently launched a crypto mining subsidiary Super Crypto Mining (renamed to Digital Farms Inc. in 2019) before pivoting to focus on crypto and renaming to BitNile.
The company said late last year that its Ault Alliance subsidiary and other legacy units – including real estate, defense, and power solutions including electric vehicle charging products – will be spun off into a separate public company in the future.
It seems DigitalFarms was looking to acquire the Michigan property from at least 2019, but seemingly didn't complete the purchase.
Soluna raises $35 million for cryptomines
In other crypto news this week, Soluna Holdings, Inc. and Soluna Computing, Inc. secured $35 million in project financing from private equity firm Spring Lane Capital to develop cryptomine data centers.
"Soluna is the only true green bitcoin company we've yet seen," said Rob Day, Spring Lane Capital Partner and co-founder. "Going after wasted renewable energy – 'spilled power' – is a compelling solution – and fixes both bitcoin's climate problem and wind power's grid problem."
Michael Toporek, CEO of Soluna Holdings, Inc. added: "Consistent with our previously articulated strategy, we continue to pursue opportunities that we believe enable us to optimize our cost of capital. The Spring Lane Capital approach helps us develop a mature repeatable model that can be scaled."
Soluna is developing a 50MW cryptomine data center in Lubbock, Texas, that is due to open soon. The facility – known as Project Dorothy – is connected to a wind farm with excess energy and due to go live this year. Another 50MW will be added in later phases.
Soluna also has Project Kati, two 60MW data center projects each tied into two 150MW wind farms in Seymour, Texas; Project Marie, a 14.2MW operating facility with a 10MW expansion option located in Calbert City, Kentucky; Project Rosa, a 75MW data center project tied into a 160MW solar plant located in Odessa, Texas; and Project Sophie, a 25MW greenfield facility located in Murray, Kentucky.
John Belizaire, CEO of Soluna Computing, Inc., said: "We are honored to have a pioneering sustainability project finance firm like Spring Lane Capital back our vision. Our model of leveraging excess clean energy to generate low-cost computing is the future of green bitcoin mining and green data centers."
Last month Soluna Holdings sold its Albany-based MTI Instruments subsidiary for $10.75 million.