Cryptomining data center firms Lancium and Crusoe Energy have agreed to cross-license their respective patented technologies.
Lancium is developing data centers in Texas than can power up or down depending on the grid load at the time, while Crusoe has developed modules that can be deployed along oil & gas pipelines and powered by natural gas that would otherwise be burned off (also known as flaring).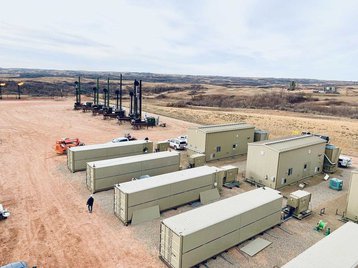 Under the terms of the agreement, Lancium will make its patented intellectual property directed to the operation of rampable data centers as Controllable Load Resources (CLRs) available to Crusoe. Crusoe will make its patented Digital Flare Mitigation (DFM) solution available to Lancium. Additional terms of the agreement were not disclosed.
"Lancium and Crusoe share a common vision of promoting decarbonization and improving the stability of electrical power grids," said Michael McNamara, co-founder and CEO of Lancium. "Given the uniqueness of our respective Intellectual Property, we believe the best way to advance our collective goal is sharing our knowledge."
"Both Crusoe and Lancium have developed solutions to harness stranded and wasted energy resources to power advanced computing systems needed to drive our shared progress," added Crusoe's co-founder and CEO, Chase Lochmiller. "Collaborating so that each of us can continue building on the other's progress will help us accelerate the transition to a renewable and clean energy future."
After breaking ground in September 2021, the first phase of Lancium's 100,000 sq ft (9,300 sqm), 25MW Fort Stockton Clean Campus was due to be fully operational this summer. The 110-acre site could reach a total of 325MW at full build-out. The company has a second 'Clean Campus' in development in Abilene, Texas, it says spans 875 acres and could reach 1,200MW. The first phase is due live later in 2022. It previously operated a 2.5MW test facility outside Houston, Texas. The company raised $150 million from investors including Hanwha Solutions, Novawulf, and SBI Holdings in 2021.
Crusoe was founded in 2018 and raised $128 million in 2021 to expand its business, which now has more than 98 container-based data centers sitting at oil wells in North Dakota and Montana. Crusoe gathered a further $500 million this year, led by green fund G2 and recently acquired Great American Mining.
More in Infrastructure Management