CloudHQ is looking to develop a data center in Chaska, outside Minneapolis, Minnesota.
First reported by BizJournal, CloudHQ is planning to develop a data center campus on 72 acres of land in Carver County's City of Chaska. The site is listed as Kelzer Property – 2007 Schoolmaster Drive in council documents. The council this month Approved the Alternate Urban Areawide Review (AUAR) Order and Scoping Document. CloudHQ still needs preliminary and final site plan approvals from the city, which it plans to seek later this year.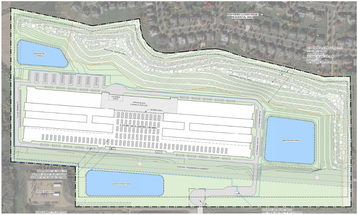 According to filed documents with Chaska Council, CloudHQ was proposing to either develop four buildings totaling 500,000 sq ft (46,450 sqm) consisting of two 100,000 sq ft and two 150,000 sq ft buildings; or one larger 1.8 million sq ft (167,225 sqm) development.
However, in the presentation to the City Council this month, CloudHQ was suggesting it would develop one two-story facility spanning 713,000 sq ft (and 1.4 million sq ft in total - 66,200 sqm and 130,000 sqm). The presentation suggests the facility will offer up to 180MW of capacity.
The company is aiming to begin construction in early 2023 for a late 2023 completion date. CloudHQ said its investment in this campus would be "in excess of $1 billion".
Most of the land CloudHQ wishes to develop on is currently listed for use as agricultural or farmstead, but the site zones for Planned Industrial Development. A homestead exists on one part of the site. Despite a substation already existing adjacent to the site, CloudHQ said a new planned 300MW substation would be needed and Xcel energy is working on this, reportedly in partnership with Minnesota Municipal Power Agency (MMPA).
The site is adjacent to a two-building Stream Data Centers campus offering 7.2MW, and a 250,000 sq ft data center owned by the United Health Group that opened in 2012. The land in question was once the target for a four-facility plan – from Stream – but those plans never came to fruition.
Compass was due to open a facility in Chaska, but seemingly never broke ground; it has one 4.8MW facility in neighboring Shakopee around 10 miles away from the site in question.
There is no anchor tenant for the facility yet. BizJournal reports that the company has said it is 'in conversation' with several tenants for the space, and the end tenant will likely be a client providing cloud Internet services.
CloudHQ typically serves the big three cloud hyperscalers of Microsoft, Google, and AWS. Its choice of Minnesota is unusual; traditionally the company has focused on developing in large and established markets such as Virginia in the US and London & Frankfurt in Europe, or large-growth markets such as Illinois or São Paulo in Brazil.
None of the big three cloud players have a cloud region in Minnesota. Microsoft has an Azure region in neighboring Iowa, and a Network PoP in Minneapolis. Google also has a region in Iowa, while AWS' nearest cloud region to Minnesota is several states away in Ohio.
CloudHQ was founded in 2016 by DuPont Fabros Technology co-founder and CEO Hossein Fateh. The company has existing and planned data center developments in Culpeper, Ashburn, and Manassas, Virginia; London and Oxfordshire, UK; Milan, Italy; Frankfurt, Germany; and São Paulo, Brazil. The company is in the process of developing large-scale campus outside Paris, France.
In January, Corporate Office Properties Trust (COPT) sold a data center in Manassas, Virginia, to CloudHQ's investment arm for $222.5 million.
Earlier this week, the company broke ground on a new development in the Elk Grove area of Chicago, Illinois.
More in Construction & Site Selection