CloudHQ has broken ground on a new data center campus in Mount Prospect, Illinois.
Energy provider Commonwealth Edison Company (ComEd) this week said construction is now underway on the first phase of a new $2.5 billion, 1.5 million square foot (140,000 sqm) data center campus after a groundbreaking ceremony this week.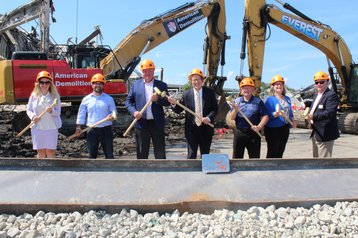 CloudHQ acquired the site in the Elk Grove area of Chicago in late 2021, with plans to demolish large parts of the former United Airlines site and construct three data center buildings, each about 560,000 sq ft (52,000 sqm) and more than 80MW. According to ComEd, the project's first building is set for completion in 2024, with the additional two buildings completed in the next three to five years based on demand.
"CloudHQ is excited to be bringing this hyperscale development to the Village of Mount Prospect. The location, scale, and speed to market of our ORD Campus reinforces all we strive to achieve, as partners to our customers. The demand we see for this location is already extremely encouraging, and will be supported by a new dedicated on-site ComEd substation that will allow us to scale to power future customer demand," said Keith Harney, COO of CloudHQ.
ComEd is a unit of Chicago-based Exelon Corporation; the company will deliver a new onsite substation, extend high voltage lines, and provide new technology investments to support CloudHQ's development. ComEd said this facility is the eighth new data center project to launch in the past year in ComEd's service territory across northern Illinois.
"ComEd is thrilled to support the launch of one of the largest data centers ever seen in our state, as part of our ongoing work to power growth by Illinois companies who continue to bring jobs and investment into the communities we are proud to serve," said Gil C. Quinones, CEO of ComEd. "Companies like CloudHQ continue to look to northern Illinois and our service territory thanks to the unparalleled access to clean, affordable, and reliable power that is essential for meeting the demands of today's economy."
United Airlines had occupied the spot for decades, but began to move out in 2007 and relocate staff to central Chicago. The site still operated as the base for United's IT and minor training operations. In 2013, United constructed a 172,000 sq ft (16,000 sqm) data center at its Mount Prospect campus; that facility was not within the development plans submitted by CloudHQ to local officials.
"I know I speak for the entire Village Board as well as a very grateful community when I say that we all anxiously look forward to watching the Cloud HQ Data Center 'go vertical' and become operational," added Mayor Paul Hoefer, Village of Mount Prospect. "Thank you to Cloud HQ for choosing to build in Mount Prospect."
CloudHQ was founded in 2016 by DuPont Fabros Technology co-founder and CEO Hossein Fateh. The company has existing and planned data center developments in Culpeper, Ashburn, and Manassas, Virginia; London and Oxfordshire, UK; Milan, Italy; Frankfurt, Germany; and São Paulo, Brazil. The company is in the process of developing large-scale campus outside Paris, France.
In January Corporate Office Properties Trust (COPT) sold a data center in Manassas, Virginia, to CloudHQ's investment arm for $222.5 million.