A suspected arson attack against Openreach's network infrastructure in Staplehurst, Kent, England brought thousands of homes and businesses offline.
The reason for the possible attack on the BT subsidiary is not known.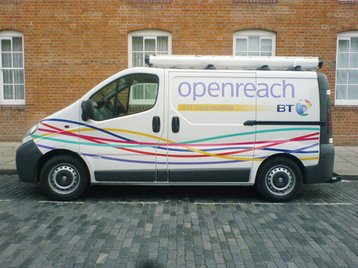 "There was a suspected arson attack on our network in Staplehurst late on Tuesday evening, leaving around 7,400 without phone and broadband services," Pete Stewart, UK operations director for Openreach, said.
"Engineers are working hard to resolve the situation, but it is a complex fix and may take several days."
Specific details of what was damaged, and how severely, was not shared. We will update this article as we learn more.
"Attacks on our equipment are deeply concerning, especially considering that so many people rely on their broadband for work, study, to get medical support, and stay connected with loved ones," Stewart continued.
"We know how frustrating this must be for those affected and we'll be doing what we can to prioritize fixes for vulnerable customers and key local services. We'd ask that anyone experiencing any disruption to report it to their service provider who will then inform us."
The company is working with relevant authorities to investigate the attack.
Attacks on telecommunications infrastructure have increased amid baseless conspiracy theories about 5G causing cancer or Covid-19. In 2020, a British man set fire to a Vodafone 4G mast, which he believed was a 5G tower that gave people coronavirus.
Similarly, just last month a Telstra cell tower in Mullumbimby, Australia was set on fire following local fears that 5G's electromagnetic energy harms babies and interferes with local bees, insects, and birds (it does not).
Last year, a New York Police Department intelligence report warned that conspiracy theorists and far-right white supremacist groups are "increasingly targeting critical infrastructure to incite fear, disrupt essential services, and cause economic damage with the United States and abroad."
The report detailed several attacks on critical infrastructure, including cell towers.
The year before, Anthony Quinn Warner blew himself up next to an AT&T central office facility. However, despite Warner being a conspiracy theorist, it is not believed he was targeting the building.
A few months later, Texan Seth Aaron Pendley was arrested for trying to blow up an Amazon Web Services data center in Virginia. He had hoped that his terrorist attack would stop a coming tyrannical Marxist government, by impacting the business of Amazon, one of the largest corporations. He was sentenced to 10 years.
While such attacks are primarily the purview of the far-right, there have been some instances of left-wing raids. Last year, an anarchist group fire-bombed the outside of a Greek government data center in a protest against surveillance and the arrest of 14 individuals.