A Telstra cell tower in Mullumbimby, Australia has been damaged in a fire in what appears to be a deliberate incident.
Emergency services were called to the tower's location at about 3am on Friday following reports that the top of the tower was on fire. Fire and Rescue NSW attended a short time later and put out the blaze. The fire has caused 'extensive' damage to the top of the tower and destroyed antennas, transmitters, and receivers.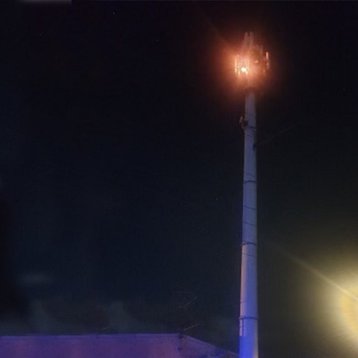 "Last night our mobile tower in Mullumbimby was set on fire. Because of that, there's no mobile coverage into Greater Mullumbimby," Telstra said in a tweet. "It's shocking to see someone purposely damage a tower, especially when the community is still recovering from floods."
"Our team is moving as quickly as possible to get the community back online. We're also working closely with NSW Police to find those who caused the damage, leaving the community disconnected."
The tower is the carrier's only mobile base station in the Mullumbimby area in New South Wales, and it services over 3600 people. The area had recently lost connectivity during flooding across New South Wales, and Telstra confirmed to ITnews that the tower was fully upgraded to 5G only last weekend.
"In the early hours of this morning we were called to the Telstra tower which had caught alight," the Mullumbimby Fire & Rescue NSW said.
Local residents have been against the tower being upgraded to 5G due to concerns around the effects they claim it would harm their health. Protesters had previously gathered at the tower during works on the site in 2020, with reports on the town saying locals feared 5G's electromagnetic energy harms babies and interferes with local bees, insects, and birds.
Telstra's regional general manager, Mike Marom told the Guardian the company working on bringing a temporary mobile service into Mullumbimby, but a number of temporary mobile services are already deployed elsewhere across the NSW and Queensland flood zones. It could be several days before temporary connectivity services are enabled, and no definitive timeline has been announced to repair the tower.
Local MP Justine Elliot said she was "disgusted at the deliberate burning" of the tower: "We have just seen the effects of a lack of communication through an emergency. This deplorable act by criminals has further crippled our infrastructure when our community has suffered so much from the flood."
"How dare you," she continued. "This places lives at risk and will significantly set back our recovery. To the people who committed this act of bastardry: you are a disgrace to our community. Shame on you."
Resilient Byron community flood coordinator Ella Rose Goninan told ABC it had been close to impossible to communicate with her 20 team leaders and other authorities following the service outage.
A local opposition group, Northern Rivers for Safe Tech, had been against the tower on the grounds that 5G causes health problems including cancer and a compromised immune system.
"Red Alert! 5G upgrade Technicians at Mullum post office Site!" a post to the group said last week. "Calling all grounded, heart-centered presence to the site immediately! If you want to show up for community the time is NOW."
A post to the group in the wake of the fire said: "Just for the record (again) we do not promote any vandalism. We promote awareness and education around the insidious nature of this surveillance tech that is proven to harm biological life."
Conspiratorial claims about 5G have led to attacks on tower masts; last year a New York Police Department intelligence report warned that conspiracy theorists and far-right white supremacist groups are "increasingly targeting critical infrastructure to incite fear, disrupt essential services, and cause economic damage with the United States and abroad."
In early 2020, the Department of Homeland Security wrote in an intelligence report seen by ABC that "conspiracy theories linking the spread of Covid-19 to the expansion of the 5G cellular network are inciting attacks against the communications infrastructure globally and that these threats probably will increase as the disease continues to spread, including calls for violence against telecommunications workers."
"Violent extremists have drawn from misinformation campaigns online that claim wireless infrastructure is deleterious to human health and helps spread Covid-19, resulting in a global effort by like-minded individuals to share operational guidance and justification for conducting attacks against 5G infrastructure, some of which have already prompted arson and physical attacks against cell towers in several US states."