Conspiracy theorists and far-right white supremacist groups are "increasingly targeting critical infrastructure to incite fear, disrupt essential services, and cause economic damage with the United States and abroad."
The warning, published in a New York Police Department intelligence report seen by The Intercept, comes after several attacks have already occurred.
Conspiracies fueled by the Internet end up attacking Internet infrastructure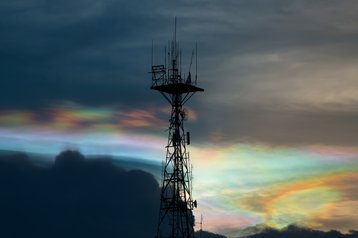 One of the most notable critical infrastructure attacks of the past few months was that of suicide bomber Anthony Quinn Warner, who blew himself up next to an AT&T facility.
However, an FBI investigation said that the Christmas Day bombing appears to have been motivated by paranoia and conspiracy theories, rather than a specific social or political ideology. It is not clear if he meant to target the AT&T building, which was heavily damaged, disrupting services.
But the NYPD Intelligence Bureau report, issued on January 20, details other attacks whose motives are more obviously aimed at critical infrastructure.
On December 14, 2020, someone broke into a cellphone tower ground station in Fairview, West Virginia. There, they severed the main power cable and removed the primary and back-up generator batteries. This impacted wireless coverage throughout West Virginia, Pennsylvania, and Maryland, and led to damages of more than $28,000.
Five days later, an unidentified individual cut open the perimeter fence of a cell tower site in Decatur, Tennessee, cut fiber optic cables, and damaged equipment. "The destruction led to a significant disruption of service for approximately 12 hours."
The Department of Homeland Security's intelligence division also warned of a third cell tower attack in New York, not mentioned in the report.
The NYPD detailed a neo-Nazi chat group whose "members strongly supported exploiting civil unrest in the United States by attacking the country's infrastructure," namely bridges, railways, and electrical grids.
In early 2020, the Department of Homeland Security wrote in an intelligence report seen by ABC that "conspiracy theories linking the spread of Covid-19 to the expansion of the 5G cellular network are inciting attacks against the communications infrastructure globally and that these threats probably will increase as the disease continues to spread, including calls for violence against telecommunications workers.
"Violent extremists have drawn from misinformation campaigns online that claim wireless infrastructure is deleterious to human health and helps spread Covid-19, resulting in a global effort by like-minded individuals to share operational guidance and justification for conducting attacks against 5G infrastructure, some of which have already prompted arson and physical attacks against cell towers in several US states."
Similar groundless and unscientific 5G conspiracy theories have led to attacks on cell towers across the world, including in the UK.
Far-right supporters have also threatened to go after big tech and its infrastructure. In particular, following Amazon Web Services decision to drop right-wing social media platform Parler as a customer, some called to bomb AWS data centers.
The company warned employees to be vigilant and report suspicious activities.