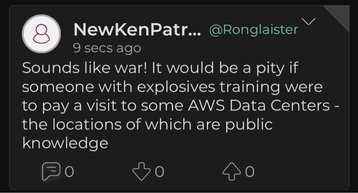 "We all need to [be] vigilant during this time to keep one another and our facilities safe," the email said. "If you see something, say something - no situation or concern is too small or insignificant."
Amazon is continuing "to closely monitor civil unrest in the United States," Vonderhaar said, and its cloud division has made a number of changes to "ensure the safety" of "our local teams and facilities, including our data centers."
The company also made Monday and Tuesday 'blocked days' in parts of the US, which means employees can't make major product updates or changes without senior management's approval.
The move comes after Amazon on Sunday told social media platform Parler it would no longer host the website due to unmoderated hate speech. The platform was among those used to help plan the January 6 attack on the US Capitol.
"Sounds like war!" a Parler user said in reply to a post about the site being removed from Apple and Google's stores. "It would be a pity if someone with explosives training were to pay a visit to some AWS Data Centers - the locations of which are public knowledge." DCD saw other threats to the company's facilities on Parler prior to the platform being taken off the Internet.
Beyond the current furor on the extreme right surrounding AWS's Parler decision, there has also been an increasing focus on data centers, telecoms towers, and Internet infrastructure among the conspiracy community. Scientifically illogical claims about 5G have led to attacks on tower masts, and may have led to the suicide bombing of an AT&T facility.
Equally, every time there is a major outage - such as last year's T-Mobile snafu or the Wells Fargo fire - websites like Parler and Gab light up with claims that it is the start of an invasion, or that the Deep State is seizing control. When inevitably this proves not to be the case, there is little introspection.
Many of the same groups that called for and led the January 6 attack are calling for similar protests, violence, and armed action on January 20.