T-Mobile, Verizon, and AT&T customers are struggling to place calls across the US in what appears to be a T-Mobile outage.
The telco's service is struggling with both voice and data, while users of other carriers are experiencing issues when they try to communicate with T-Mobile customers. Update: The T-Mobile issues have mostly resolved - further details here.
Likely just an internal error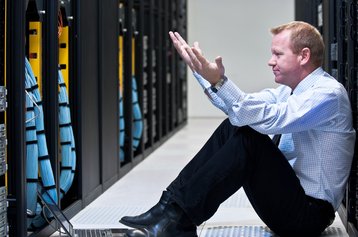 "Our engineers are working to resolve a voice and data issue that has been affecting customers around the country," T-Mobile's president of technology Neville Ray said on Twitter.
"We're sorry for the inconvenience and hope to have this fixed shortly."
T-Mobile is the nation's second largest carrier, after completing its acquisition of Sprint just a few months earlier.
Users from all major carriers have been complaining of errors and outages, but Verizon claims it is because they are trying to connect to T-Mobile users.
"Verizon's network is performing well. We're aware that another carrier is having network issues. Calls to and from that carrier may receive an error message," a Verizon spokesperson said. "We understand Downdetector is falsely reporting Verizon network issues."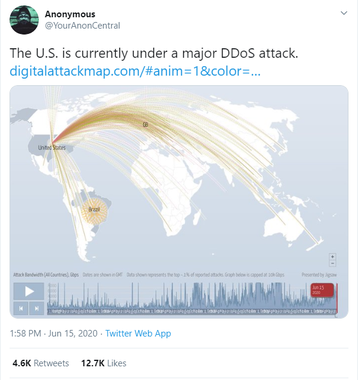 Downdetector, a popular website for tracking outages and issues, is currently showing a number of major outages across telecoms operators and popular websites.
This, combined with a heavily shared image from DDoS-tracker Digital Attack Map, which shows unreliable and unconfirmed data on attacks, appears to have led to a widespread belief on social media that the US is undergoing a major attack (the same tracker showed a similar map just yesterday).
The DDoS attack claim was even shared by Congressman Ted Liu, and is currently the fifth most popular trending hashtag on Twitter.
Separately, earlier this week CBR reported on a major - but unsuccessful - DDoS attack on AWS, which occurred in February, but has only now been publicly discussed. When shared on social media with the headline 'AWS Hit With a Record 2.3 Tbps DDoS Attack,' the date is not immediately clear, inadvertently fueling the theory that the US is being DDoS attacked.
There is currently no evidence that a major distributed denial of service attack is happening, although smaller attacks are happening constantly. One of the largest and most successful DDoS attacks happened in 2016, when the attack brought down DNS company Dyn - impacting AWS, as well as Twitter, SoundCloud, Spotify, Netflix, Reddit, Pagerduty, Shopify, Disqus, Freshbooks, Vox Media, PayPal, Etsy, Github, Heroku, Time, PlayStation, the Intercom app and more.
"I have found no indication these outages are DDoS related. Rather, there may be Sprint/T-Mobile issues related to a wonky update in the systems from the Sprint side to help merge with T-Mobile. Not sure what may be up with other carriers," security researcher Brian Krebs tweeted.
Free online conferences to drive best-practice
How can you keep up with growing data center capacity demands sustainably and at speed?

How is COVID-19 going to change the way we operate data centers?

Exploring mission critical power technology & systems management
Update:
Roger Barranco, VP of Global Security Operations at Akamai, told DCD: "It's very interesting, because they point to different graphics on Twitter that says 'Oh look at this big attack,' but if you look at the history it's the same as yesterday.
"People are just way pre-mature at making massive assumptions and tweeting whatever, maybe with some urgency to be first. They were clearly totally wrong about it being DDoS related."
With his company offering DDoS mitigation solutions, as soon as he saw the tweets, Barranco immediately called his team "and said 'hey what's going on, what are we seeing?' and they were like 'oh nothing.' It was a very normal day - except it did mess me up a little bit with calling in because I stepped out for a moment and I have T-Mobile as a carrier."