Stack has installed three beehives at its campus in Milan, Italy.
"Honeybees are responsible for 80 percent of the world's pollination, but their population is threatened and drastically declining," Stack said last week on LinkedIn. "To support their preservation, we've adopted three hives that will host nearly 200,000 bees."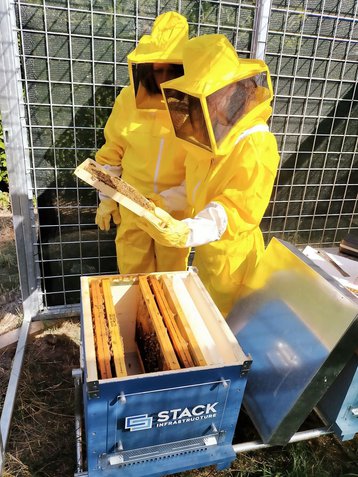 Images show at least three hives with Stack logos inside an enclosure.
Stack's Italian campus was previously known as Supernap Italia. Supernap International was set up as a partnership between US-based Switch and the ACDC Holdings fund in 2014 to build data centers globally based on the designs of Switch's Tier IV Las Vegas facility.
The first facility in Milan (now known as MIL01A) opened in 2016, with the second building ( MIL01B) opening in late 2021. 2021 also saw the company announce a new land acquisition and further expansion plans at the site. This year saw the company open the third building on the site.
IPI Partners acquired Supernap Italia in March 2021, before rebranding under the Stack umbrella a year later. According to Stack's website, the company is planning two more facilities at the campus: the 148,650 sq m (1.6 million sq ft), 30MW MILL2, and the 5,000 sq m (53,800 sq ft), 10MW MILL3.
Environmentalists suggest that honeybee hives are a good thing in moderation, but if companies want to support all pollinators they should improve the provision of forage plants and wildflowers on their verges and other parts of their site. Ireland's DCs for Bees campaign, led by Host in Ireland, has created a Pollinator Plan advising on how to do this.
DC for Bees calls on data center operators to adopt plans to support biodiversity. These include 42 suggested actions, including preserving existing hedges that contain forage plants, and reducing the mowing of lawns to allow wildflowers to grow. Bees can be given nesting places, with "bee hotels" hanging on walls, and earth banks for mining bees. DCs for Bees also suggests drilling holes in wood on site to allow more nesting space.
Tree planting and beekeeping schemes are being used by data centers to help improve their ESG credentials. NTT has deployed beehives on the roof of its Vienna 1 data center in Austria. Both Equinix and CyrusOne have joined Host In Ireland's Orchards in the Community initiative to grow plants that help provide an early food source for bees as they emerge from winter.