SuperNAP International, the joint partnership between Rob Roy's Switch and the ACDC Fund, has opened its first data center.
The €300 million ($314m) SuperNAP Italia data center in Milan marks Switch's first foray outside of the US, and could well be Italy's largest data center.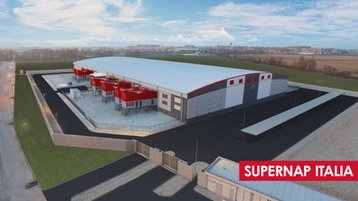 Switching overseas
The facility spans 42,000 sq m (452,000 sq ft) of data center space across four data halls, has 40 MVA of power distributed through two 132 kilovolt transmission paths, up to 40 kW of power per cabinet, 200 multi-carrier fiber couples with separate paths, and a roof capable of withstanding 322 km/h winds.
"The lightning fast growth of the data that is running our planet has driven the demand from our clients," SuperNAP Italia's MD Luca Beltramino said. "They want their worldwide technology operations in the SuperNAP International data centers."
Fiber optic network operator Telia Carrier was highlighted as a customer who will locate in the facility, with MD Davide Binaghi, saying:"Telia Carrier is expanding into the SuperNAP Italia data center for many reasons, including its high standards of data center security, availability and scalability, in addition to its carrier-neutrality and key geographical position."
SuperNAP Italia is a founding member of the Open Hub Med Project, which pushes for a neutral, free zone for the Internet and data exchange among Mediterranean Basin countries.
In addition to the Milan facility, SuperNAP International is constructing Thailand's largest data center. The site should open early next year, and have capacity for more than 6,000 server racks. SuperNAP International as a whole has pre-sold more than 500 cabinets and 3.3 MW of power, and designs its facilities based on Switch's American data centers.
Switch's partner on both projects, the ACDC Fund, is itself a partnership between telecoms company Orascom TMT Investments and telecoms investment and management group Accelero Capital.
Meanwhile in America
Regular readers of DCD may remember that we covered Switch's lawsuit with the Nevada Public Utilities Commission in great detail earlier this year, delving into a messy fight over whether the data center operator could buy energy directly from First Solar, or whether it was stuck with NV Energy. Now, it looks like some common ground may finally have been found.
Switch and state regulators have reached an agreement to allow the company to leave NV Energy, the Las Vegas Review-Journal reports. The deal would see Switch pay up to $27 million as an exit fee to cover NV Energy's investments in electricity infrastructure.
But first, the Nevada Public Utilities Commission must vote on the agreement, some time later this month. Should it get the go ahead, Switch has until next August to leave.