Stack Infrastructure has launched another data center outside Milan, Italy.
The company this week announced the opening of its third data center in Siziano; the new MIL02 facility spans around 9,000 sq m (97,000 sq ft) and 10MW.
The new facility was constructed in less than 12 months on a land parcel it acquired in 2021 and brings the site's live data center capacity to 120,000 square meters (1.3 million sq ft) and more than 50MW.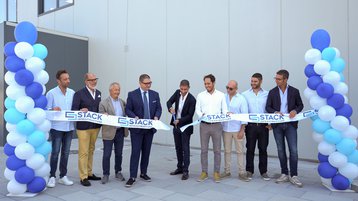 Stack said it also owns more than 100,000 square meters (1 million sq ft) of expansion land in Siziano capable of supporting over 80MW of total power, including a new parcel close to the existing campus.
"We believe Italy's data center landscape is at the outset of a significant growth trend," said John Eland, CEO of Stack EMEA. "Our latest investment in the region is a key component to our EMEA expansion strategy and solidifies our position as our clients' trusted development and operational partner in the markets most essential to their own growth."
Sherif Rizkalla, CEO of Stack EMEA-Italy, added: "The opening of our new facility demonstrates that Stack has once again benefitted from its solid local relationships to rapidly deliver scalable, sustainable capacity for our clients."
Stack's Italian campus was previously known as Supernap Italia. Supernap International was set up as a partnership between US-based Switch and the ACDC Holdings fund in 2014 to build data centers globally based on the designs of Switch's Tier IV Las Vegas facility.
The first facility in Milan (now known as MIL01A) opened in 2016, with the second building ( MIL01B) opening in late 2021. 2021 also saw the company announce a new land acquisition and further expansion plans at the site.
IPI Partners acquired Supernap Italia in March 2021, before rebranding under the Stack umbrella a year later. According to Stack's website, the company is planning two more facilities at the campus: the 148,650 sq m (1.6 million sq ft), 30MW MILL2, and the 5,000 sq m (53,800 sq ft), 10MW MILL3.
More in Construction & Site Selection