Supernap Italia has opened a second data center on its campus in Milan, Italy.
The new facility, comprised of two independent data halls, brings the Siziano campus to 100,000 square meters (1 million sq ft) and 40MW of power.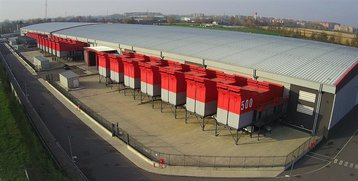 "Six years ago, we set out to develop and operate Europe's most advanced data center. With the completion of our second facility, we've brought our initial investment and campus vision full circle," said Sherif Rizkalla, CEO of Supernap Italia. "Today, we directly employ more than 50 highly talented individuals and serve some of the world's most important hyperscale cloud providers right here in Siziano. We are proud of the incredible progress we've made and are committed to further investment in the region to provide our customers with runway for future growth."
The first phase of the campus opened in 2016. The new halls more than double the total footprint of the site.
In May the company acquired two parcels of land totaling 170,000 square meters (1,830,000 sq ft) on the same industrial park as its existing campus; the plot will support three data centers totaling 35 MW of incremental capacity, bringing the campus' total capacity to 75MW. The first of the new data centers is expected to be operational by mid-2022.
Supernap International was set up as a partnership between US-based Switch and the ACDC Holdings fund in 2014 to build data centers globally based on the designs of Switch's Tier IV Las Vegas facility.
Earlier this year, affiliates of private equity firm IPI Partners (IPI) acquired ACDC, which was previously owned by Accelero Capital Holdings.
Supernap International also includes a Bangkok data center campus, but IPI confirmed to DCD that this part of the business isn't included in the deal and only Supernap Italia was acquired.