Skybox Datacenters is planning a large new campus in Dallas, Texas.
First announced in DCF this week, the company is planning a 300MW, 1 million sq ft (92,900 sqm) development known as PowerCampus Dallas.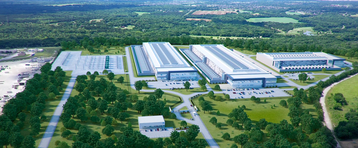 The 115-acre site is located in Lancaster, to the south of Dallas, and will feature an on-site substation. Skybox said build-to-suit options are available with multiple, flexible design configurations. Renderings suggest a three-building campus.
A video from the company suggests building designs can vary from a single-story 48MW facility to a two-story 96MW building; Skybox said it will be able to support power densities of up to 500 watts per sq ft.
"Skybox Datacenters is excited to announce our latest data center campus with Bandera Ventures in partnership with Principal Asset Management," the company said on LinkedIn.
Bandera Ventures, a Dallas-based real estate developer and operator, acquired the site – at South Dallas Avenue and Old Red Oak Road, east of Interstate 35E – in April 2023. Bandera and Skybox have partnered on two previous projects in Houston and Plano in north Dallas.
"PowerCampus Dallas will raise the bar in the North Texas data center market and beyond," Rob Morris, CEO of Skybox Datacenters, told DCF. "This partnership brings together expertise in multiple disciplines that are critical for delivering significant capacity in this dynamic data center market."
Principal has invested in a number of data center projects in the US and Europe. The company closed its first dedicated US data center fund in 2021.
The company has previously acquired a data center in Atlanta, Georgia, as well as managed services company Bytegrid, both in partnership with Lincoln Rackhouse.
In 2021, Lincoln sold a T-Mobile data center in Florida to a group owned by Principal Real Estate Investors. This year, Principal partnered with new US operator Crane Data Centers, which is planning a 100MW campus in the Forest Grove area of Oregon.
"The partnership with Skybox and Bandera continues Principal's long commitment to the data center sector," said Ben Wobschall, managing director, real estate, Principal Asset Management. "With over $3 billion committed to the data center sector over the past 17 years, we've been able to witness the evolution of the sector first-hand and are excited to utilize strategic partnerships like this one to drive continued success for our clients and customers."
Skybox is also partnering with logistic real estate giant Prologis for a number of projects, including a 600MW PowerCampus site in Hutto, Austin, and a 100MW build-to-suit campus in Plano.
More in Construction & Site Selection