New firm Crane Data Centers Inc. is planning a large data center outside Portland, Oregon.
The company, along with Principal Asset Management through its real estate investment team, this week announced the development of a 100+MW data center campus in the Forest Grove area, around eight miles from Hillsboro.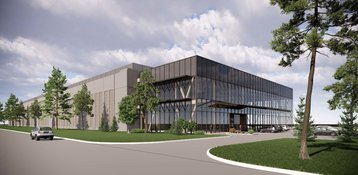 The first phase of the project includes a ~300,000 square-foot facility on a 35-acre site with an initial 50MW of capacity, with plans to expand to more than 100MW. Timelines for development weren't shared.
"We're honored to partner with Principal Real Estate Investors to develop a new data center campus in the Portland market," said Matt Pfile, CEO of Crane. "We're excited to collaborate with the Principal real estate team and develop a data center campus that demonstrates our strong commitment to sustainability."
Ben Wobschall, managing director of Real Estate at Principal Asset Management, added: "This strategic partnership with Crane and data center investment in the Portland area is an exciting project for all parties involved and makes for an excellent addition to our current portfolio of data centers."
Launched in 2019, this is seemingly Crane's first data center project. CEO Pfile previously spent a dozen years at Google, with roles in data center energy and location strategy.
The company aims to develop wholesale, powered shell, and build-to-suite hyperscale facilities, and lists planned projects across the US in California (Silicon Valley and Los Angeles), Arizona (Phoenix), and Illinois (Chicago), as well as Tokyo & Osaka in Japan.
BMO Capital Markets Corp. and Compo Capital Advisors acted as strategic and financial advisors to Crane.
Part of Principal Financial Group, Principal Asset Management and Principal Real Estate have previously invested in a number of data centers.
Principal Real Estate began investing in data centers in 2007 and has committed more than $1 billion in data center acquisitions and developments while also owning more than $1.1 billion in data center REITs. In 2021, the company closed its first dedicated US data center fund and last year closed a €155 million ($175.8m) European data center fund.
Last year Principal partnered with Lincoln Rackhouse to acquire a data center in Atlanta, Georgia. The two companies have partnered on a number of data center projects, in 2019 acquiring colocation and managed services company Bytegrid together. In 2021, Lincoln sold a T-Mobile data center in Florida to a group owned by Principal Real Estate Investors.
2022 also saw Principal acquire an Atlas Edge-occupied facility in Barcelona, Spain as well as a Getronics-occupied data center in Cheshire, UK.
Rowan Digital Infrastructure, a new firm from Quinbrook Infrastructure Partners, is also planning a 150MW facility on 63 acres in Forest Grove under the name Project Meriwether.