Singtel is reportedly exploring developing a data center campus in Johor, Malaysia.
In a post on Facebook this week, Onn Hafiz Ghazi, the Menteri Besar (head of government) of Johor, said the Singaporean telco was looking to develop a new campus in the Malaysian state after discussions with the company on a state visit.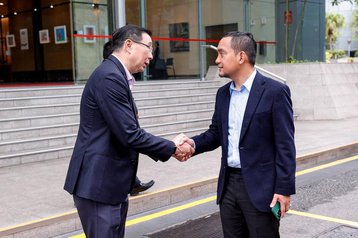 "Singtel expressed its willingness to develop a campus data center that uses the latest technology, is sustainable, and uses green technology in Johor," he said.
Further details weren't provided, and the company hasn't commented.
Singtel has a portfolio of around 10 data centers across Singapore, Australia, and Hong Kong, including the 570,000 sq ft DC West facility in Singapore.
In October 2021, Singtel announced plans to form a new data center company focused on Southeast Asia, beginning with a Thai joint venture with Gulf Energy, and with AIS joining the partnership in early 2022. Singtel is also developing a 51MW data center in Indonesia in partnership with Telkom and Medco Power.
The company has previously said it is adding capacity in Singapore with a new 40MW build in Tuas adjacent to the Tuas cable landing station. The Indonesian and Singapore data centers are expected to begin operations by 2025.
Singtel's subsea cable investments include SeaWeMe-3, -4, -5, and -6, as well as the Asia Link Cable System (ALC) and SAFE cable.
The company recently carved out its infrastructure assets into a single unit as part of an ongoing restructuring.
Johor, located just north of Singapore, has become a growing data center market as companies look to overcome capacity and building challenges in the city-state.
The likes of Equinix, PDG, Bridge DC, AirTrunk, YTL, Keppel, GDS, and Yondr are all developing facilities in the area.
More in Construction & Site Selection