Princeton Digital Group is to develop a new data center campus in Johor, Malaysia
The company this week announced it has acquired 31 acres of land from JLand Group (JLG) to develop a 150MW campus in Sedenak Tech Park (SteP).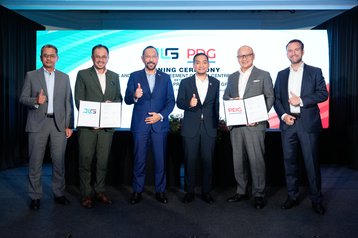 The first 60MW phase, known as JH1, is set to be ready for operations by Q2 2024, and will see around $450 million invested into the project.
The project is PDG's first in Malaysia. The company has projects in Singapore, China, Indonesia, India, and Japan. The company announced plans to expand into Malaysia and Indonesia earlier this year.
"Our entry into Malaysia adds to PDG's growing footprint in Asia, further strengthening our presence as the Pan-Asia digital infrastructure leader," said Rangu Salgame, chairman & CEO of Princeton Digital Group.
Datuk Syed Mohamed, president, and chief executive of Johor Corporation and chairman of JLG, said: "At this point, the focus for JLG is expanding data center opportunities as investors and operators are prioritizing the sector's fast-growing prospects. Through our integrated offerings at STeP, we remain committed to strengthening Johor's position as a regional data center hub given its capability to meet the accelerating demand. PDG's entry into Johor and SteP is a strong validation of JLG's strategy and offerings."
JLand is a wholly owned real estate & infrastructure subsidiary of the state-owned Johor Corporation.
JLG has previously signed an MoU with Mitsui & Co. to develop a data center in SteP. Both Yondr and ChinData's Bridge DC are developing facilities in the Johor Corp-owned Sedenak Tech Park (formerly known as Kulai Iskandar Data Exchange (KIDEX)).
JLG also announced the expansion of its 640-acre data center park, STeP 2, which is projected to be ready in September 2024. As part of the larger Ibrahim Technopolis (IBTEC) development, STeP 2 will be powered by a solar photovoltaic farm.
Warburg Pincus and Mubadala-backed PDG provide colocation data centers for enterprises & hyperscalers, as well as cloud services. The company is headquartered in Singapore and has over 600MW of capacity across 20 data centers in China, India, Indonesia, Japan, and Singapore.
The latest facility to be launched is a 48MW facility in Navi Mumbai, which entered the market in December 2022. The company is also in the process of constructing a 100MW data center in Tokyo, Japan, due to be live in 2024.
More in Construction & Site Selection