Princeton Digital Group (PDG) is investing $1 billion into expanding its data center footprint around Singapore with planned developments in Batam, Indonesia and Johor, Malaysia.
The project has been named the 'SG+ strategy', and will see the initial investment of $1bn go into a 96MW campus in Batam.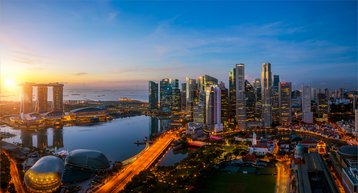 The Batam campus will be located in the Nongsa Digital Park. It will have four 24MW buildings located on a 15-acre parcel of land. According to the company, power has already been fully secured for the project.
Batam is a small island across the Singapore Strait in Indonesia's Riau Islands Province, and is only 20km from Singapore. With real estate limited in Singapore, PDG said SG+ should provide a solution and enable customers to expand their infrastructure in any of the SG+ campuses. The likes of Data Center First and GDS are developing in the Nongsa park.
Rangu Salgame, chairman and CEO of PDG said: "As a Singapore-headquartered Pan-Asia data center operator, PDG is at the forefront of enabling customers to continue leveraging the unique set of characteristics that have made Singapore such a successful hub for the region. Our SG+ strategy is aimed at providing a seamless infrastructure growth roadmap for our customers."
"The new campus in Batam reinforces our growth strategy and solidifies our already strong presence across the region in China, Singapore, India, Indonesia, and Japan," he added.
While expansion is also planned in Johor, located just north of Singapore across the border in Malaysia, neither a start date nor construction plans have not been disclosed.
The company has also said that it is exploring tropical data center solutions to achieve its net-zero emissions goal of 2030. According to Asher Ling, managing director of PDG in Singapore, the Batam facility will incorporate 'sustainable and renewable energy initiatives', though specifics were not shared.
"We are happy to work with PDG as they build their 96 MW hyperscale project to provide seamless and stable data center capacity to their customers," said Muhammad Rudi, chairman of Badan Pengusahaan Batam (BP Batam) and Batam Indonesia Free Zone Authority.
"PDG's investment in Nongsa Digital Park further strengthens the SEZ's position as a data center hub in the region. We look forward to working closely with PDG as the company continues to scale as a Pan-Asia leader in digital infrastructure."
Warburg Pincus-backed PDG provides colocation data centers for enterprises & hyperscalers, as well as cloud services. The company is headquartered in Singapore and has over 600MW of capacity across 20 data centers in China, India, Indonesia, Japan, and Singapore. The latest to be launched is a 48MW facility in Navi Mumbai, which entered the market in December 2022. The company is also in the process of constructing a 100MW data center in Tokyo, Japan, due to be live in 2024.