Data Center First is to break ground on its data center in Batam, Indonesia.
The company announced the groundbreaking for Phase 1 of its first 30MW data center project in Nongsa Digital Park due to take place today.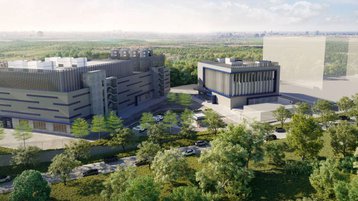 The new facility, Nongsa One, is designed and constructed to Uptime Tier III standards and is expected to be completed by the end of Q4 2023. Sitting on 2.57 hectares of land, Phase 1 of the campus will be a two-story building offering 6MW of critical IT load. The building will have a gross floor area of 6,085 sqm (65,500 sq ft) across four data halls.
Ka Vin Wong, Chief Executive of Data Center First said: "This groundbreaking event brings to reality the potential for implementing near-shoring ICT business strategy for the digital economies of Indonesia and Singapore. It is an exciting and catalytic growth opportunity for the region as the world economy continues to find new growth in a post-pandemic era."
Batam is the largest city in the Riau Islands and is located close to Singapore, on the opposite side of the Singapore Strait. Nongsa park, developed by Citramas Group, has been granted special economic zone (SEZ) status, which provides beneficial tax tariffs. Telkom Indonesia & Etisalat, as well as GDS, are also looking at developing in Nongsa park.
DCF was set up by Hong Kong-based real estate private equity firm Gaw Capital Partners last year and is led by industry veteran Wong Ka Vin. It announced plans for a data center in Batam in October 2021. According to its website, DCF also has projects in the planning stage in Jakarta, Indonesia; Manila; Philippines; Ho Chi Minh City, Vietnam; and Bangkok, Thailand, but hasn't shared information on any of those developments.
Wong has previously held roles at i-STT, Neustar, Equinix, CSF Group, and 1-Net. The new company marked Gaw's first data center investments in Asia outside of China, having previously raised $1.3 billion for a China-focused data center fund and invested in a 300,000 sq ft (27,900 sqm) facility outside Shanghai. Gaw has since announced investments and/or projects in Tokyo, South Korea, and Vietnam.
More in Construction & Site Selection