Real estate private equity firm Gaw Capital Partners has formed a new data center company and will develop a facility in Batam, Indonesia.
Hong Kong-based Gaw has formed a new joint venture with industry veteran Wong Ka Vin called Data Center First Pte Ltd., which is to develop a data center campus in Nongsa Digital Park on the Riau Islands.
"I am excited to be working with Ka Vin and his team of professionals in creating this data center operating platform," said Kenneth Gaw, President & Managing Principal of Gaw Capital Partners. "It signals a key milestone in Gaw Capital Partners' growth in the data center industry, an industry that enables digital transformation opportunities for organizations globally to continue to grow.
"We plan to grow our regional data center platform rapidly through a combination of multiple asset and platform acquisitions and our partnership with Data Center First is the first step in the execution of this strategy."
Wong has previously held roles at i-STT, Neustar, Equinix, CSF Group, and 1-Net. The details of DCF's planned campus weren't shared, but Wong recently told the Straits Time his company had bought 2.75 hectares of land at Nongsa park to build multiple data centers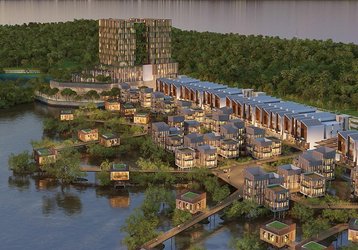 "The next-generation data center operators will need a deep understanding on how to exploit M&E and IT technologies in combination to create a more effective and valuable service experience for our customers," said Wong Ka Vin. "Data Center First will keep pace with the latest trend and provide industry-leading experience in the market for our clients."
The JV marks Gaw's first data center investments in Asia outside of China. Gaw had previously raised $1.3 billion for a China-focused data center fund and invested in a 300,000 sq ft (27,900 sqm) facility outside Shanghai. The two companies said they will also look to develop further data center projects in Southeast Asia and beyond.
Batam is the largest city in the Riau Islands and is located close to Singapore, on the opposite side of the Singapore Strait. Nongsa park, developed by Citramas Group, has been granted special economic zone (SEZ) status, which provides beneficial tax tariffs.
The Indonesian Government says it is targeting data center developments from 150MW to 400MW at the 167-hectare park. Nongsa Digital Park senior executive director Marco Bardelli has previously said around 20 data center firms were looking to build facilities in the park, which has allocated around 25 hectares for data centers.
Earlier this month, the Indonesian government released a statement this month saying Telkom Indonesia and Etisalat Group are also planning to invest up to $100 million building a data center at the park.