Singtel and Telkom have broken ground on a data center in the Batam area of Indonesia.
Last month Singtel announced that it had entered into a strategic partnership with Telkom Indonesia and Indonesian energy company Medco Power for its first data center project in the country.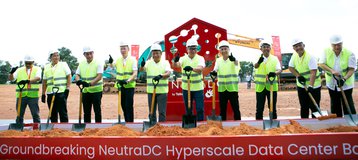 Singtel, Telkom, and Medco Power held a groundbreaking ceremony for the new facility, located on an 8-hectare site in Kabil Industrial Estate along Batam's eastern seaboard.
Serving hyperscalers, multinationals, and local businesses in Indonesia and Singapore, the data center campus will be developed in three phases and have a total capacity of 51MW at full build-out. The initial phase of the project will deliver approximately 20MW and be powered by renewable energy from Medco Power.
The data center will be majority owned by Telkom – under the NeutraDC name – while Singtel and Medco Power will be minority shareholders.
Andrew Lim, chief commercial officer of Singtel's Regional Data Centre business said: "This strategic partnership with Telkom and Medco Power in Batam marks our first foray into the data center market in Indonesia. As Southeast Asia's largest digital economy, Indonesia is core to our expansion plans into high-growth markets. Our track record in designing, building, and operating data centers, combined with Telkom and Medco Power's deep expertise in their respective fields will prove a powerful partnership."
In April 2022 Singtel and Telkom signed a memorandum of understanding (MoU) to collaborate on data centers as part of the former's 'regional data center strategy'.
Singtel has a portfolio of around 10 data centers across Singapore, Australia, and Hong Kong, including the 570,000 sq ft DC West facility in Singapore. In October 2021 it formed a new joint venture with Gulf Energy and AIS in Thailand to develop data centers; the first 20MW facility is due live in 2025.
The company has said it had carved DC West and Kim Chuan 2 into a separate Singtel-owned entity with approximately 60MW of capacity. It has also secured a site in Tuas for a new integrated cable landing and data center facility which will add 30-40 MW in capacity and also launch in 2025.
It appears Telkom's neuCentrIX brand is being replaced with NeutraDC, founded last year to consolidate its operations. Telkom had operated around 19 neuCentrIX data center facilities in 13 cities across Indonesia, including one in Batam.
In total Telkom says it operates around 27 facilities; five 'international' data centers, 19 NeuCentrIX, three Tier III & IV data centers, three enterprise data centers (Sentul, Serpong, and Surabaya), and one hyperscale data center (Cikarang).
Both Singtel and Telkom had been rumored to be previously exploring potential sales of their data center units. Singtel was exploring a potential sale as part of a 'strategic reset' in 2021, while Telkom was rumored to be exploring a sale as recently as November 2022.