APAC data center firm AirTrunk has announced plans to expand into Malaysia.
The company this week said it is developing a data center in the Johor Bahru area, in the south of the country and close to Singapore. The facility, known as JHB1, is AirTrunk's first in Malaysia.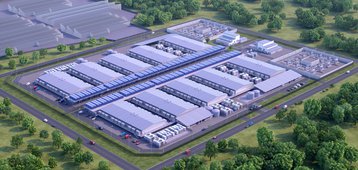 Sat on 10 hectares, JHB1 will offer 21,900 sqm (235,750 sq ft) of space across 20 data halls and more than 150MW of capacity, along with 370 sqm (4,000 sqm) of office and storage area. The initial phases of JHB1 will provide 50MW of capacity, with construction commencing shortly and due for completion in 2024.
AirTrunk said the facility will be anchored by "one of the world's largest technology companies" and be used as a major cloud availability zone.
AirTrunk founder and chief executive officer, Robin Khuda, said: "It is an exciting time for our business as we announce a new data center in a new country with a large anchor tenant. AirTrunk continues to develop critical digital infrastructure to support accelerating digitalization in the region."
JHB1 will be funded under AirTrunk's sustainability-linked loan framework and the company said the site will include a number of 'sustainable innovations' including a cooling solution utilizing a combination of indirect evaporative cooling (IEC) and direct-to-chip liquid cooling technology.
The data center will feature a solar-ready roof, equipped to add 5MW of solar panels. The company is targeting a PUE of 1.15.
AirTrunk chief technology officer, Damien Spillane, added: "With its flexible designs and innovations driving energy and water efficiencies in tropic climates, JHB1 will be the most sustainable data center in Malaysia. In line with our Net Zero by 2030 target, we are working with our customers to source renewable energy to match electricity consumption at the data center."
Macquarie Group-backed AirTrunk currently operates or is developing nine data centers across Asia Pacific, with three facilities in Sydney and one in Melbourne, Australia; two in Tokyo, Japan; and one each in Singapore and Hong Kong.