Singapore Telecommunication (Singtel) has opened a US$285 million (S$400m) data center, called DC West. The telco's eighth data center in Singapore was completed without fanfare in November and granted a permit for occupation, DCD can confirm.
Designed to meet the critical hosting needs of the financial services industry, government agencies, and cloud and Internet service providers, DC West conforms to Monetary Authority of Singapore's (MAS) Technology Risk Management guidelines that was drafted to address existing and emerging risks to financial institutes.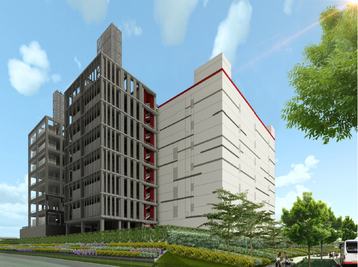 One of Asia's largest
Singtel's purpose-built seven-story data center has a floor area of over 570,000 sq ft, and is also equipped with a total power capacity of up to 36MW – one of the highest in the Southeast Asia region. As we reported earlier, the new facility makes use of environmentally friendly Diesel Rotary Uninterruptible Power Supply (DRUPS) for IT loads.
According to information from the DC West product brochure and factsheet, target accreditations upon completion include ISO27001 and Building & Construction Authority (BCA) and Infocomm Development Authority of Singapore (IDA) Data Centre Green Mark Platinum.
Singtel appeared to have eschewed accreditations from Uptime Institute, though it describes DC West as a "Tier 3+" data center. The specifications for the facility shows a high level of redundancy: DRUPS on a fully redundant 2N design, a cooling density built to 2000W sqm, N+1 chiller system and 24 hours of make-up water storage at full load.
The data center is located in the west part of Singapore, and within visual sight of two other newly opened data centers: Telin-3 which is located within the Singapore data center park (DCP), and Kingsland Data Center which opened at the end of 2015.