Oracle is thought to have selected Johannesburg for its first African and South African Cloud region.
The SA Business Times reports that the company has selected the city, with an official announcement due soon. Update: Oracle has announced the Jo'burg facility along with plans for 13 others over the next year.
"The South Africa cloud region is part of Oracle's strategy to meet customers where they are, enabling customers to keep data and services where they need it," said Regis Louis, Oracle vice-president for cloud strategy in Europe, the Middle East, and Africa.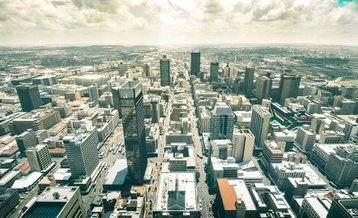 "Companies are realizing that reliance on a single cloud-infrastructure provider is neither wise nor practical. Oracle has introduced several hundred new cloud services and features and is continuing to see organizations in South Africa turn to Oracle to run their most mission-critical workloads in the cloud."
Oracle first announced plans for a Cloud region in South Africa in 2019. The company now has 30 Cloud region globally and plans to have 38 by the end of the year. It opened a second Brazilian region in May; Second regions are planned in UAE and Saudi Arabia, as well as additional European regions in Italy, Sweden, and France. New regions in Singapore, Mexico, and Israel are also in development.
Microsoft opened an Azure region in Johannesburg in 2019; it was opened alongside a Cape Town region that is no longer listed. The Cape Town region was removed at the start of 2021 and may have been re-classed as a 'reserve access region' as has previously happened with its Stavanger region in Norway.
First announced in 2018, AWS launched a Cape Town region in 2020 and has an Edge location in Johannesburg.
Google Cloud has no regions across the entire African continent and has made no official plans to develop any. It is, however, currently working on the Portugal-to-South-Africa Equiano private subsea cable. Equiano is also due to land in Nigeria.
Africa Data Centres and Teraco have both recently opened new facilities in Johannesburg, while NTT's Dimension Data is currently developing a facility in the city.
In February, the African Data Centres Association said the rest of the African continent needs 1,000MW and 700 facilities to meet growing demand and bring the rest of the continent onto level terms with the capacity and density of South Africa.