Oracle is still on track to open its first data center region in Israel despite missing out on a large government cloud contract.
Google and Amazon Web Services were recently jointly-awarded a NIS 4 billion ($1.2 billion) tender to provide cloud services to Israeli government agencies. Both Microsoft and Oracle are said to be separately appealing the contract award.
"I'm pleased to confirm that we're well underway with building our new data region in Israel and we've made excellent progress since construction started in early 2021," Richard Petley, Senior Vice President, UK, Israel, The Netherlands, BeLux at Oracle, said on LinkedIn last week. "We're on track to go-live later this summer, giving customers access to our secure cloud infrastructure and broad range of integrated applications."
Constructed by Bynet Data Communications, Oracle's Jerusalem data center is an underground facility is a 14,000 sq m (460,000 sq ft) bunker locate below five parking levels and a 17-story building in the city's Har Hotzvim tech hub. The data center extends over four floors at a depth of 50 meters (160 feet) below ground level.
Register now for our upcoming virtual conference on data center energy integration: DCD>Grid Scale
Oracle stays in Israel despite missing out on Nimbus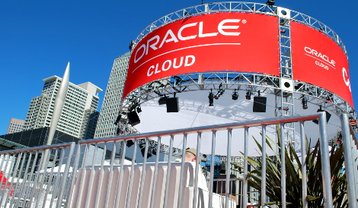 The Israel Finance Ministry first announced that it was preparing a tender "for the provision of public-platform-based cloud services to the government ministries and additional governmental units" in 2019.
AWS, Google, Microsoft, IBM, and Oracle were all listed as potential providers of the cloud infrastructure portion of the tender, known as the Nimbus project.
Local Israeli data center regions have announced by all but IBM, but none have yet fully opened. Oracle was first to announce plans for a local facility, while Microsoft has faced delays that are thought to be partly responsible for the company not winning the contract. Development on AWS and Google facilities are ongoing.
This month, the Finance Ministry announced that AWS and Google won the tender, which will see ministries and other public entities shift to the companies' cloud regions upon opening. A separate Nimbus tender won by KPMG will set out a government strategy to move operations to the cloud, while another tender will focus on providing technical help in implementing the move. A yet-to-be-published tender will provide optimization services for use of the cloud.
"AWS and Google – the Rolls-Royce and the Masarati of the cloud world!" said Shahar Bracha, Acting CEO of Government ICT Authority, Government CIO, Prime Minister's Office. "Two of the world's leading cloud companies will build a cloud center in Israel (Data Center) and provide services to the Israeli government, the public sector, the IDF, and other bodies."