Oracle has launched a new Israel public cloud region from an underground data center in Jerusalem. It is the first of the large cloud companies to open an availability region in the country.
Constructed by Bynet Data Communications, the underground facility is a 14,000 sqm (460,000 sq ft) bunker locate below five parking levels and a 17-story building in Jerusalem's Har Hotzvim tech hub. The data center extends over four floors at a depth of 50 meters (160 feet) below ground level.
"This is an important step toward the upcoming opening of the Oracle Israel East Cloud region," said Uzi Navon, Oracle's Israel country leader. "With the new Cloud region in the capital city of Israel, Oracle is once again proving its commitment to the State of Israel and to Israeli customers and ensures a second-generation cloud infrastructure with the strongest performance at the highest level of security."
Jerusalem's mayor Moshe Lion added: "The establishment of the first public cloud in Israel, specifically in Jerusalem, will contribute to the further development of the city's technology."
Nimbus Project makes Israel attractive for public cloud players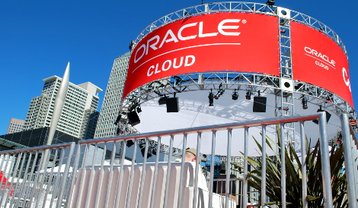 The facility will offer a full range of Oracle public cloud services. As well as Israel, it has neighboring cloud regions in Jeddah, Saudi Arabia, and Dubai, UAE. The company plans to open 38 cloud regions worldwide by the end of 2021.
Oracle is the first to open an availability region in the country, but will not be the last. Amazon and Microsoft are both in the process of opening AWS and Azure regions in Israel. The Israeli Government is undergoing a large-scale cloud transformation under the moniker Nimbus Project, which will see large-scale procurement of cloud infrastructure and services to host and deliver Government information & applications.
This week also saw Oracle partner with Australian Data Centres (ADC) deploy a Dedicated Region Cloud@Customer from an ADC facility in Canberra, as well as a new rugged Edge computing appliance called the Roving Edge Device (RED). The new Edge device allows customers to take Oracle Cloud Infrastructure (OCI) and securely deploy them at Edge locations and features 40 OCPUs, 1 Nvidia T4 GPU, 512GB of RAM, and 61TB of storage. The appliance is available as a single node or can group five-15 devices into a single cluster. Cost starts at $160 per device per day.