French telco Orange has opened two data centers in its home market.
The company this month announced the commissioning of two new data centers, in Amilly in the Centre-Val de Loire region and in Val-de-Reuil in Normandy in France.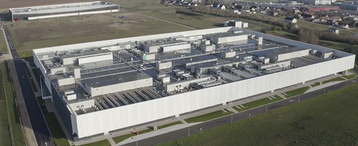 Both buildings span 16,000 sqm (172,200 sq ft) with 5,000 sqm (53,800 sq ft) of computer rooms.
The telco said the two new facilities will use an outside-air free-cooling system for around 10 months of the year and operate with a PUE of around 1.3.
Orange began work on the Normandy 2 facility in 2019 and was due to be completed in 2020; the first facility on the 18-hectare campus was commissioned in 2012. Development on Amilly began around the same time.
Orange has entered into Power Purchase Agreements with Boralex, Engie, and TotalEnergies to cover the energy consumption of the three data centers with energy from renewable sources. The three deals total 170MW from wind and solar sources across the country.
Fabienne Dulac, deputy CEO of Orange Group and CEO of Orange France, said: "These new data centers are truly strategic assets for the Group. They support the growth of our internal usage and that of our customers, in a framework of trust while significantly reducing energy and environmental footprint."
Dulac said the new facilities mark a "significant milestone" around the company's consolidation of its data center fleet.
"By 2030 our 17 historical data centers will have closed and all our hosting activities will be concentrated on these three new ones," he said.
Last year Orange opened new data centers in Santander, Spain, and Warsaw, Poland; and acquire a facility in Casablanca, Morocco. The company also reportedly plans to open five more Spanish facilities over the next two years and is developing a data center in Egypt's New Capital City.