Low Earth Orbit satellite firm OneWeb has signed a Memorandum of Understanding (MoU) with maritime technology company Navarino and the government of Uzbekistan to expand its services.
The satellite company has signed an agreement with Navarino to see the maritime firm become a global distribution partner to deliver connectivity to the global commercial shipping industry.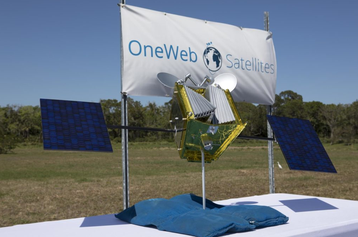 A series of sea trials will be undertaken with Navarino focusing on the first vessels connected from Q1 2023. OneWeb is already delivering connectivity to customers 50 degrees North, such as Alaska, Canada, and the North Sea, and will offer commercial connectivity services globally for maritime from 2023.
"OneWeb's data speeds will be up to 10x faster than GEO maritime solutions and have a significantly lower latency. Through our constellation of satellites, as well as through our various partnerships, we will be able to provide global coverage, including throughout the Arctic. The potential for using enhanced connectivity particularly on sensitive routes where real time video and cloud syncing can be used as standard, even on deep sea vessels, is game-changing," said Carole Plessy, head of maritime at OneWeb."Navarino is an industry leader in maritime technology and we're proud to work with their team to make a difference to the operations of commercial shipping and to shape the future of sustainable smart shipping. Together, we can provide a selection of tailored, customizable broadband channels."
Dimitris Tsikopoulos, Navarino CEO, added: "Becoming a Distribution Partner of OneWeb ensures we can continue to deliver cutting-edge, powerful connectivity to our customers' fleets, wherever they are in the world. Our industry-leading technology has put us at the forefront of maritime innovation and enabled us to empower our customers, while anticipating their future needs thanks to the way our services continuously evolve. OneWeb's new satellite constellation and its ambitions for maritime connectivity are a progressive step forward which we are pleased to be a part of."
Uzbekistan wants connectivity, signs MoU with OneWeb
This week also saw OneWeb sign an agreement with Uzbekspace, the Agency of Space Research and Technology under the Cabinet of Ministers of the Republic of Uzbekistan to explore the provision of ubiquitous high-speed, low-latency broadband satellite connectivity across the Central Asian country.
Shukhrat Kadirov, Acting Director General of Uzbekspace said: "The signing of the MoU with OneWeb is a significant event in the development of space communications in Uzbekistan, and the availability of OneWeb telecommunications services in the Republic would allow effective implementation of the tasks provided for by the state programs for the development of information technologies and ensure the availability of innovative communication services even in remote regions of the country".
Ivan Zaitsev, Market Access Director at OneWeb, added "We are happy to play a role in the process of enabling the digitalization of Uzbekistan by bringing in our high-throughput, low latency connectivity over low Earth orbiting satellites, including opportunities in e-government services, mining and green energy projects in even the most remote settlements of the country."
Last year OneWeb announced plans to establish a ground station in neighboring Kazakhstan.
Wholesale-focused OneWeb has signed distribution agreements with more than two-dozen firms globally, including with Spanish telco Telefónica this month. In industry and sector verticals, it has signed distribution deals with the likes of Airbus, Rock Networks, MOL, Marlink, Clarus Networks, Hughes, and Peraton, Excelerate Technology Group, and others.