OneWeb has announced plans to build a ground station in Kazakhstan.
The Low Earth Orbit satellite company announced a partnership with the Government of Kazakhstan and a memorandum of understanding with subsidiaries of the Ministry of Digital Development, Innovation and Aerospace Industry; national satellite operator Republican Centre of Space Communications JSC; national company Kazakhstan Gharysh Sapary; and Ghalam LLP, a spacecraft component supplier.
As well as building a ground station in the country, the MoU sees OneWeb provide satellite broadband to remote & rural communities across Kazakhstan, and establish a Low Earth Orbit Center of Excellence.
FEATURE: Building an Internet for the Moon
OneWeb expands ground station network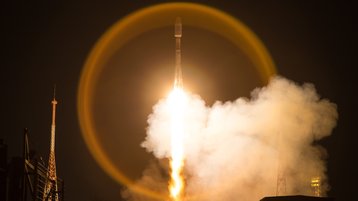 "I am delighted to visit Kazakhstan for the first time on this occasion of the 60th Anniversary of Yuri Gagarin's first human spaceflight," said Sunil Bharti Mittal, executive chairman of OneWeb "Today, we can honor his legacy with a constellation of OneWeb satellites orbiting the Earth to bring connectivity to all locations where it is needed.
"The Government of Kazakhstan continues to see the importance of bridging the digital divide and enabling the digitization of its economy using innovative and modern satellite technology. OneWeb has pledged to work together to bring about these opportunities for the country," he added.
OneWeb says it has two Satellite Operations Centers (SOC) in Virginia, US, and in London, UK, which is also home to its Ground Network Operations Center (GNOC) to manage its ground stations.
The company hasn't revealed how many ground stations it has in total or their locations but does have facilities in Norway and Portugal well as three US stations in Alaska, Connecticut, and Florida. Reports indicate its network of 648 satellites could require up to 44 ground stations in total, with around 22 thought to be in development last year at the time of its bankruptcy.