Microsoft has installed its first satellite ground station infrastructure at an Azure data center.
The company this week revealed images of a ground station being deployed at its Quincy data center in Washington.
"With Azure Orbital, we are building satellite ground stations in our data centers, allowing customers to ingest data from their satellites directly in Azure for processing and storage at-scale," the company said in a blog post. "We continue to build ground stations in other locations and integrate with partner ground stations to further our customers' ability to communicate with their satellites for data ingestion."
For more breaking data center news, features, and opinions, be sure to subscribe to DCD's newsletter
Microsoft goes Orbital with colo ground stations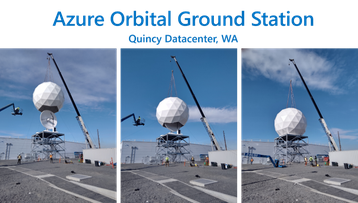 Azure Orbital is Microsoft's ground station as a service offering, allowing customers to communicate to, control their satellite, process data, and scale operations directly through Azure.
First announced in September 2020, the company has partnered with a number of satellite companies including Amergint, Kratos, KSAT, Kubos, SES, US Electrodynamics INC, Viasat, and Thales Alenia Space.
In a video published on YouTube, Ashish Jain, a principal product manager lead for Azure Orbital, said the Quincy ground station houses two 6.1 meter antennas supporting X, S, and UHF bands.
"We plan to build many more Ground Stations and also make partner ground stations available from our partners to enable our customers to ingest data directly in Azure."
AWS has also launched ground station services in Oregon, Ohio, Bahrain, Sweden's Stockholm, Sydney in Australia, Ireland, and South Africa's Cape Town.
For more on the future of the Internet in space, NASA's plans to built LunaNet, and what's next for the Solar System Internetwork, be sure to read the latest issue of the DCD Magazine