Microsoft is expanding its off-planetary ambitions with the launch of a new business division, Azure Space.
As part of the new initiative, Microsoft will partner with SpaceX's Starlink Internet service, and expand its existing partnership with SES.
Joining Microsoft to help run Azure Space is William Chappell, formerly of DARPA; Chirag Parikh, formerly the White House Director of Space Policy on the National Security Council; and Stephen Kitay, who was the Deputy Assistant Secretary of Defense for Space Policy.
The new space race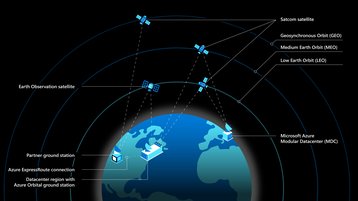 Microsoft hopes Azure Space will make its cloud service "the platform and ecosystem of choice for the mission needs of the space community," Azure Global VP Tom Keane said.
The partnership with SpaceX will see Elon Musk's company provide satellite-powered Internet connectivity on Azure, helping connect Microsoft's newly announced modular data centers.
SpaceX has FCC approval to launch some 12,000 Starlink satellites - and is seeking permission to launch another 30,000 after that - all to cover the world. It currently operates around 800 satellites, which will soon provide limited connectivity in North America for a public beta trial.
Microsoft and SpaceX will also team up for a US military contract. SpaceX plans to build and launch four experimental satellites as part of the Space Tracking Layer defense system capable of detecting and tracking ballistic, cruise, and hypersonic missiles. Microsoft will serve as a subcontractor and cloud provider for the $149 million project.
In its partnership with SES, Microsoft will use the company's O3b MEO constellation "to extend connectivity between our cloud data center regions and cloud Edge devices." The two companies announced a partnership last month as part of Azure Orbital, its new ground station venture.
Microsoft also plans to launch Azure Orbital Emulator to help manage satellite networking. "Commercial and government space organizations are developing thousands of interconnected satellite constellations which require precise planning and sophisticated AI-driven formation protocols, to ensure optimal networking connectivity and operational coverage on-orbit," Keane said.
"Azure Orbital Emulator is an emulation environment that conducts massive satellite constellation simulations with software and hardware in the loop. This allows satellite developers to evaluate and train AI algorithms and satellite networking before ever launching a single satellite."
Microsoft's space ambitions come as Amazon's Aerospace and Satellite Solutions (ASS) business segment and Ground Station division try to win over the same customers, signing contracts with companies like Iridium and Myriota. But Amazon is also planning its own mega-constellation, with Project Kuiper hoping to blanket Low Earth Orbit with 3,236 satellites, putting it in direct competition with companies like SpaceX.