HPE will follow up its Spaceborne computer with a more powerful successor.
The first system was sent to the International Space Station in August 2017, coming down aboard a SpaceX Dragon capsule some 615 days later.
The new Spaceborne Computer-2 is scheduled to launch into orbit on the 15th Northrop Grumman Resupply Mission to Space Station (NG-15), currently expected to launch on February 20 - weather permitting.
This time, the data processed on the system will then be sent down to be stored and further analyzed on Microsoft Azure.
Supercomputers in space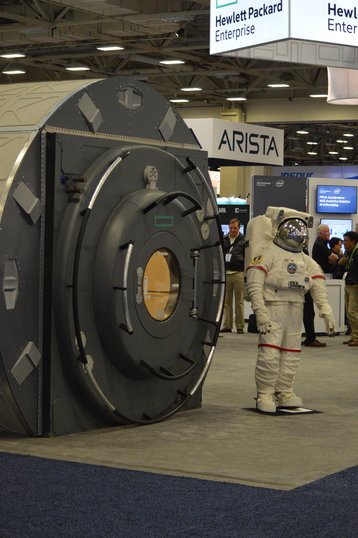 "The first system worked," project lead Dr. Mark Fernandez said. "We were in space, 1.8 years, we were the first teraflop in space and we ran over 50,000 runs successfully."
The company operated an identical system on Earth, running identical workloads to compare runtimes, failure, and the like.
"You've gotten to one of my disappointments, and I blame it on Covid," Fernandez said. "We had a documented product failure analysis for Spaceborne-1. One, and when Covid hit, we're not able to get all of that completed. All of our suppliers that were going to look at the chips, look at the DIMMs, look at the power supplies, etc, either shut down or limited their work to things that keep the company going. So we have not done any significant product failure analysis. The only thing we can report is that there were more single-bit errors in space than there were on Earth. But like on Earth in space, we captured all of them, and there was no loss of data and no errors introduced in any of our runs."
Beyond the limited shielding provided by the ISS and the system's aluminum chassis, neither the original nor the new supercomputer rely on any additional radiation protection. Instead, HPE uses software to ensure reliability in case of space-related failures.
"NASA granted us twice the rack space, twice the electrical power, twice the cooling, as last time," Fernandez said. "All that room is precious. Our hardware guys took advantage of this 2x opportunity. In a sense, I have full redundancy."
The new computer is essentially just a 2U system - 1U being an HPE Edgeline EL4000 Converged Edge system, with one CPU and one GPU, as well as 64GB of memory, and 4x 240GB of SSD. The other 1U is an HPE ProLiant DL360 Gen10 server, with two CPUs, 192GB of memory, and 10x 240GB of SSD.
The company turned to SSDs rather than HDDs, even though they are more susceptible to cosmic radiation. "Spinning disks have angular momentum, which can affect the spacecraft," Fernandez said. "It was crazy to me. You can put up spinning disks if you want to, but you're gonna have to go through this series of tests and certifications, etc. And it was too long and too much for us to consider."
Both Spaceborne-1 and -2 use rear water-cooled door heat exchanges. "On the first, there were several instances when cooling was limited," Fernandez said. "And if you limit the cooling, I'm naturally going to limit my power consumption, because I can't dissipate the heat. On Spaceborne-1 there were also times when the power was severely limited, and we put our servers into idle."
Both systems are primarily research projects in and of themselves, but they also serve some use as an Edge computing system for ISS astronauts and potentially satellites that communicate with the space station.
Satellites that photograph ice caps currently take huge amounts of images that are covered by clouds. Usually, these are sent down to Earth - an expensive and bandwidth-consuming process - before being discarded by scientists just looking for clean shots.
An Edge system like Spaceborne could instead remove such images before sending them down. The European Space Agency is separately partnering with Intel and Ubotica for the PhiSat-1, a cubesat that does AI processing onboard.
As humanity drifts further away from its home planet, bringing compute with them will be vital for ensuring rapid reactions for the autonomous systems they bring with them.
"My aspiration for Spaceborne-2 is that we have thousands of proof of concepts that further demonstrate why you're going to need something like this at the lunar gateway at the lunar colonies and on our way to Mars."
For more on the future of the Internet in space, NASA's plans to built LunaNet, and what's next for the Solar System Internetwork, be sure to read the latest issue of the DCD Magazine