Microsoft is planning to build a gas power plant at an upcoming data center development in Dublin, Ireland.
The Business Post reports the cloud company is aiming to install an 'unprecedentedly large-scale gas power plant' at its Grange Castle site due to its concerns about the severe constraints on Ireland's energy grid.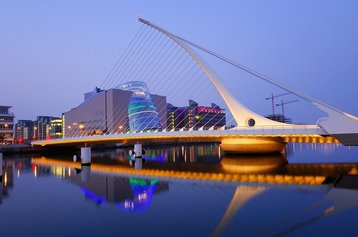 Microsoft plans to construct a 170MW on-site power plant alongside 21 diesel generators in a bid to offset the high-energy demand from the facilities.
Documents seen by the Business Post show Microsoft recently applied for a special industrial emissions license from the Environmental Protection Agency (EPA) to operate 21 emergency diesel generators and a 25-metre high gas-fired compound at its campus in the Grange Castle Business Park in south Dublin.
There remains a de facto moratorium enforced by the grid in the Dublin area, with EirGrid stating no new grid connection applications for data centers will be accepted in Dublin until 2028.
Interxion (Digital Realty) paused plans for expansion in the area as a result, while Dataplex recently entered voluntary liquidation after EirGrid denied power contracts at two data center sites. Microsoft, AWS, and Equinix have also reportedly paused projects in the area.
In its application to the EPA, Microsoft is seeking permission to build a standby 170MW gas-fired power plant comprising 22 generators and 22 flue chimneys because its new data centers are "located in what is noted as a constrained area in terms of electrical grid capacity".
The plant would be used for Dub 14 and Dub 15 facilities, which were granted planning permission last year. The two new developments will have a combined 56,246 sqm (605,000 sq ft) of floorspace – 28,072 sqm (302,100 sq ft) for DUB14 and 28,173 sqm (303,200 sq ft) for DUB15.
Microsoft said it expects the gas plant to run eight hours a day, 365 days a year, to meet the needs of the "utilities flexible demand policy" introduced by the energy regulator since constraints on the national power system first emerged last year.
People Before Profit councilor Madeleine Johansson told Dublin People that the new power station is "not a solution to the data center problem".
"While it doesn't add to the congestion of the national electricity grid it will contribute to Ireland's carbon emissions," she said. "The plan for a private gas power plant is clearly a way for Microsoft to circumvent the new stricter criteria for data centers in the Dublin Region."
A spokesperson for the EPA said Microsoft's application was "currently under assessment by the agency and no decision has yet been made".
"The agency has several other license applications under assessment from sites with large-scale emergency generation capacity," the spokesperson added.
Amazon recently applied for an emission license to Ireland's Environmental Protection Agency (EPC) to install 105 diesel generators at its new Dublin data center site.
In October, Minister for Climate Eamon Ryan instructed Gas Networks Ireland (GNI) not to provide connections to data centers that are going to rely exclusively on gas for power. Minister Ryan told the GNI: "It would not be appropriate for Gas Networks Ireland to sign any more contracts to connect data centers to the gas network where the data center would be powered mainly by on-site fossil fuel generation."
The request follows on from similar instructions which stopped fossil-fuel-powered data centers connecting to the electrical network two years ago.
Microsoft recently signed power purchase agreements in Ireland totaling 900MW.