Amazon has applied for an emission license to Ireland's Environmental Protection Agency (EPC) to install 105 diesel generators at its new Dublin data center site.
First reported by The Times, the application from Amazon requests 105 backup diesel generators and four diesel-powered fire pumps to be located at the data center site in Clonshaugh Business and Technology Park. The units will have the ability to general a total of 674MW of power. Industrial emissions licenses are required when units are expected to generate more than 50MW of power.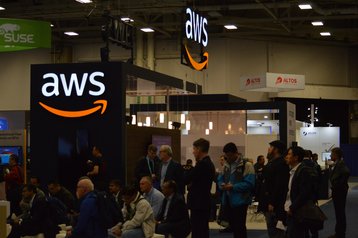 Over the summer Amazon was granted planning permission for two new data centers at the Clonshaugh Business and Technology Park. Located on the site of a former Ricoh building once earmarked for T5's first European facility, it's unclear if Amazon had been previously granted a connection by EirGrid before the current moratorium was brought in.
According to The Times, applications for licenses have 'flooded into the agency', and nine of the ten applications received this year are for Amazon's data centers.
The application comes as a response to concerns over the impact data centers are having on electricity networks in the country. It was reported earlier this year that the amount of metered electricity consumed by data centers in Ireland reached 14 percent in 2021.
It was this report that led to the consideration of a moratorium on data centers country-wide. Instead, the government published a revised statement in which it said that data centers should make efficient use of the country's electricity grid by using available capacity and alleviating constraints, increase renewable energy use, colocated with a renewable generation or energy capability, be decarbonized by design, and provide opportunities for community engagement and assist SMEs.
There remains a de facto moratorium enforced by the grid in the Dublin area, with EirGrid stating no new grid connection applications for data centers will be accepted in Dublin until 2028.
Interxion (Digital Realty) paused plans for expansion in the area as a result, while Dataplex recently entered voluntary liquidation after EirGrid denied power contracts at two data center sites. Microsoft, AWS, and Equinix have also reportedly paused projects in the area.
Ireland's Commission for Regulation of Utilities has reportedly encouraged data centers and other large consumers of energy to turn to emergency power generators. Since January of last year, a total of ten facilities — nine operated by Amazon and one by Microsoft — have applied for industrial emissions licenses. K2, Equinix, and Echelon applied for permits in 2020 and 2021, ahead of the CRU decision.
Microsoft reportedly intends to build 22 gas generators with a combined capacity of 162MW that would be used for 2,920 hours a year at its site in Grange Castle Business Park near Clondalkin, Dublin.
While the application for diesel generators will fail to meet requests for more green data centers, it will enable the facilities to power themselves independently. According to The Register, the CRU is giving priority to connection applications where the data center has reduced its electricity demand by using generators or energy storage capabilities. This is likely the motivating factor for the application.
Diesel supplies in the UK are decreasing year on year. According to energy market business intelligence outfit Argus Media, the UK had 12 percent less diesel stock in July than it did in the same period a year earlier, and the amount is 30 percent down from 2019. It was reported earlier this month that the UK government was thus considering rationing access to diesel, and allocating data centers a large share of the fuel in a potential crisis.